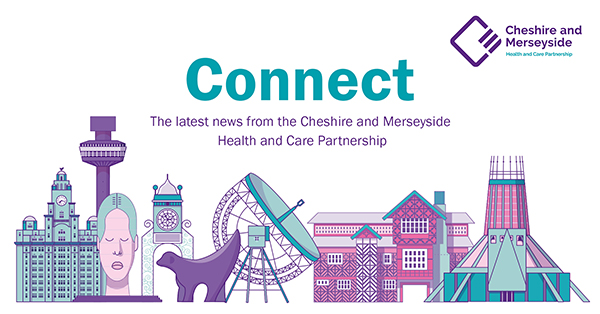 Issue 28, 14th January 2021

Dear Reader,

Welcome to 2021's first edition of Connect, the Health and Care Partnership's stakeholder newsletter. I hope you're feeling refreshed and renewed in this New Year. Whilst some of the challenges we faced last year are still with us, I believe we also have many reasons to be hopeful, the COVID-19 vaccine now being deployed being one of them. You can read more about how the Partnership is supporting the coordination of the vaccine in this edition of Connect.

An incredible effort is taking place across Cheshire and Merseyside's health and care system to respond to this third wave of the COVID-19 pandemic, which has been exacerbated by new strains of the virus. I am working with the Partnership's executive to ensure that we are doing everything we can to support the system during this challenging time, and I'd like to thank our partner organisations and colleagues working across the system for their hard work and commitment.

I was delighted to see several colleagues in partner organisations recognised in the New Year Honours list for their impressive service and achievements. Congratulations to all of them. You can see a full list of honourees from Cheshire and Merseyside's health and care system in our news and features section.

You will also find important operational updates from our COVID-19 Testing and Mass Vaccination Programmes, as well as updates from our Partnership Coordination Group and other updates from our Places and Programmes. We've also included an update from the last Partnership Board meeting.

I hope you enjoy reading through this newsletter, if you have an item that you would like to submit, please do not hesitate to contact the Partnership's communications team by emailing cm.partnership@nhs.net.


Best wishes,

Jackie Bene
Chief Officer
Cheshire and Merseyside Health and Care Partnership
In this edition...
News and Features
| | |
| --- | --- |
| | Members of Cheshire and Merseyside's health and care system recognised in 2021 New Year's Honours list |
The hard work and impressive achievements of a variety of colleagues working in Cheshire and Merseyside's health and care system has been recognised in the Queen's 2021 New Year's Honours list.

The annual list, published at the end of 2020, highlights the incredible efforts of hundreds of public sector and community workers throughout the year and beyond.

The honourees from our local health and care system are:

Sarah Elizabeth Clarke
Adult Critical Care and Major Trauma Operational Delivery Networks for Cheshire and Merseyside

Amy Farrell
Mersey Care NHS Foundation Trust

Susanne Lynch
South Sefton Clinical Commissioning Group and Southport and Formby Clinical Commissioning Group

Gregory John Barton
St Helens and Knowsley NHS Teaching Hospitals Trust and Chair, United Kingdom Clinical Pharmacy Association, Critical Care Group

Warren Karl Baxter
Mersey Care NHS Foundation Trust

Read more.
| | |
| --- | --- |
| Latest updates from the Partnership Board – 23rd December | |
Read this update from the latest Partnership Board meeting, which took place on Wednesday 23rd December 2020 and covered a range of topics, including the COVID-19 Vaccination Programme, Integrated Care System (ICS) designation, reviewing strategic priorities and Cheshire and Merseyside's Mental Health Improvement Programme.

Read more.
| | |
| --- | --- |
| | Better Health campaign relaunches in 2021 |
The hugely successful Better Health campaign from the NHS and Public Health England relaunched at the start of this year.

The campaign will run from January to March and will deliver a number of dedicated behaviour-specific campaigns focusing on four themes: losing weight, getting active, quitting smoking, and mental health.

Supporting people to take better care of their health and wellbeing is a fundamental priority for the Partnership. Partner organisations can support the campaign by sharing content and messages with their local population, staff and stakeholders.

Find out more.
Place and Programme Updates
Liverpool

Liverpool consultants secure double-whammy at national awards

Dr Tina Dutt and Professor Cheng-Hock Toh, consultants at Liverpool University Hospitals, have both received national recognition for their contributions to patient safety and service improvements, after being presented with awards by the Royal College of Pathologists.

Read more.
COVID-19 Vaccination

Programme update for COVID-19 Vaccination in Cheshire and Merseyside – 13th January 2021

The COVID-19 vaccination programme is off to a strong start, more than 2 million doses have now been delivered across the country.

Read the latest updates from Cheshire and Merseyside's COVID-19 Vaccination Programme, including news of a dedicated mass vaccination centre for Cheshire and Merseyside in St Helens that goes live next week.

Read more.
COVID-19 Testing

Programme update for COVID-19 Testing in Cheshire and Merseyside – 13th January 2021

Following the announcement of a national lockdown in England due to the rapidly increasing rise in COVID-19 cases and the general advice for people to stay home unless absolutely necessary, the COVID-19 Testing Programme for Cheshire and Merseyside is concentrating on asymptomatic testing for key workers.

Read more.
Partnership COVID-19 response

Partnership Coordination Group update – 7th January 2021

The Partnership Coordination Group (PCG) meets fortnightly to support the coordination of activity and communication of Cheshire and Merseyside's health and care response to COVID-19, as well as other elements of partnership working.  

This briefing provides an overview of the discussions from the meeting held on Thursday 7th January.

Read more.
In case you missed it...
Latest NHS Integrated Care Bulletin

The NHS England and NHS Improvement Integrated Care Bulletin provides the latest news and events on integrating health and care across the country, including examples of best practice from NHS, local government and voluntary sector partnerships.

The latest edition features news on the introduction of the new Oxford/AstraZeneca vaccine, an opportunity to share your views on how to build a strong integrated care system across England and a report on what can be learnt from the first wave of COVID-19.

Read more.
Upcoming event to focus on the role Integrated Care Systems play in preventing ill-health and reducing burdens on the NHS

An upcoming HSJ webinar will delve into prevention and early intervention as part of the NHS Long Term Plan and will particularly focus on how systems can work together to reduce health inequalities.

During the event, a spotlight will be shone on ICSs and what they can do to concentrate efforts on the organisations they represent. The online event will take place on Thursday 21st January, 10:30am - 11:15am, registration is free.

Read more.
Liverpool's Director of Public Health explores how to stay COVID safe in latest blog

A recent blog from by Matt Ashton, Director of Public Health for Liverpool, explores what members of the public across the Liverpool City region can do avoid future local lockdowns, as well as sharing predictions on what the next few months may look like during a pandemic peak.

Read more.
Cheshire and Merseyside Cyber Security Group Bulletin

The 29th edition of the Cheshire and Merseyside Cyber Security Group Bulletin features the latest news, including an NHS data breach and the ransomware surge that has drove a 45% increase in healthcare cyber-attacks.

Read more.
Media Roundup: 23rd December - 12th January

A summary of the latest key headlines from across the Cheshire and Merseyside footprint, including a snapshot of the most prominent discussions held on social media around health, social care and local authority services in the patch.

Read more.
Visit cheshireandmerseysidepartnership.co.uk for more information.
Copyright © Cheshire & Merseyside Health & Care Partnership, All rights reserved
Our mailling address is:
Cheshire & Merseyside Health & Care Partnership
Regatta Place | Brunswick Business Park | Summers Lane | Liverpool | L3 4BL