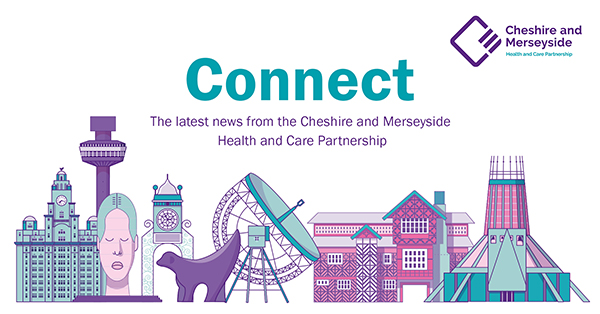 Issue 29, 28th January 2021

Dear Reader,

Welcome to this edition of Connect, the Health and Care Partnership's stakeholder newsletter. 
 
I'm pleased to report that our Executive Team is now in place – you can see who we are on our website and we have begun a development programme to ensure we achieve Integrated Care System (ICS) designation in the Spring. We are all dedicated to communicating well and often, with clarity and consistency and I'm looking forward to updating you on our progress in future editions of Connect.
 
The COVID-19 Vaccination Programme is continuing to be delivered at pace, with well over 330,000 vaccinations given to Cheshire and Merseyside residents so far. This is the result of the hard work and commitment of colleagues in our partner organisations, who are working tirelessly to ensure that we protect as many of our residents as possible, and I'm sure you share our gratitude to all of them.
 
This week we are also celebrating the news that three community pharmacy vaccination sites in Crewe, Alsager and St Helens have now opened, giving our residents even more choice on where they can receive their vaccine. 
  
Also in this edition of Connect you can see updates on our COVID-19 Vaccination and Testing Programmes, watch an interview with Susanne Lynch MBE, Head of Medicines Management for South Sefton and Southport and Formby CCGs, read about a new mental health resilience tool for NHS staff and much more.


Best wishes,

Jackie Bene
Chief Officer
Cheshire and Merseyside Health and Care Partnership
In this edition...
News and Features
| | |
| --- | --- |
| Research into the impact COVID-19 has had on black, Asian and minority ethnic (BAME) communities nearing third phase | |
A large-scale research project commissioned by the Partnership in collaboration with NHS England and Improvement, Public Health England and Champs Public Health Collaborative has successfully gathered the views of over 600 members of the region's BAME community.

The project is now working on analysing these views before the third and final phase, which will include in-depth interviews and focus groups.

Read more.
| | |
| --- | --- |
| | In conversation: Susanne Lynch MBE on her career, achievements and Sefton's response to COVID-19 |
Susanne Lynch MBE is Head of Medicines Management at South Sefton and Southport and Formby Clinical Commissioning Groups (CCGs). Her long and distinguished career in pharmacy saw her recognised in this year's Queen's New Year's Honours List as a Member of the Most Excellent Order of the British Empire (MBE).

In this exclusive interview with the Partnership, Susanne describes the moment she found out that she had received an MBE, how both her and her team in Sefton have responded to the COVID-19 pandemic and how the past year has presented challenges but has also strengthened working relationships across Cheshire and Merseyside.

Watch now.
| | |
| --- | --- |
| Integrated service to support those with gender identity issues set to launch in Cheshire and Merseyside | |
A pilot of the Cheshire and Merseyside Area Gender Identity Collaborative (CMAGIC) service will launch later this year, providing invaluable help and support to those experiencing issues relating to their gender identity.

The new service will be delivered by Mersey Care NHS Foundation Trust in Partnership with CMAGIC and is a multifaceted collaboration of representatives from neighbouring Clinical Commissioning Groups, providers, GPs, clinicians and patient representatives.

Read more.
Place and Programme Updates
Cheshire East

CCG and local council in Cheshire East launch online wellbeing service

NHS Cheshire CCG and Cheshire East Council have launched MyCareView, an online portal that provides residents with a range of digital services to manage their health and wellbeing.

The MyCareView Patient Portal uses the 'Patients Know Best' platform to offer patients a safe, private, and convenient way of accessing their health records, letters and appointments.

Read more.
COVID-19 Vaccination

Programme update for COVID-19 Vaccination in Cheshire and Merseyside – 28th January 2021

Cheshire and Merseyside's COVID-19 Vaccination Programme has celebrated the milestone achievement of delivering over 330,000 vaccines to local people. This week also sees the opening of three more community pharmacy sites in Crewe, Alsager and St Helens.

Read more.
COVID-19 Testing

Programme update for COVID-19 Testing in Cheshire and Merseyside – 28th January 2021

More than half a million rapid tests for COVID-19 have now been taken across the Liverpool City Region.

The milestone was reached on Sunday, January 24, with over 10,000 positive Covid-19 cases having now been identified as part of the pilot – even though they were showing no symptoms at all.

Read more.
Population Health

Residents across Cheshire and Merseyside are encouraged to keep talking about their mental health during national lockdown

A new campaign from Champs Public Health Collaborative, 'Let's keep talking', is encouraging people who may be struggling to have a chat with someone they trust.

The initiative also asks those who may know someone who is vulnerable or isolated to reach out to them. For those who do not have someone to speak to or who need extra support, the campaign includes signposting to key organisations that can help.

Please support the campaign by sharing campaign materials within your organisation and with your residents.

Download the toolkit.
Workforce

Mental health resilience support tool launches for NHS staff

The NHS Clinical Leaders Network has worked in collaboration with Robertson Cooper, the workplace wellbeing experts and the University of Manchester to offer 'Good Day at Work' to NHS staff who are working through the COVID-19 pandemic.

The online portal provides detailed insights on personal health and wellbeing by providing personalised feedback reports on overall health, wellbeing and resilience, with hints and tips to improve.

Partner organisations are encouraged to share this portal with relevant staff.

Sign up.

In case you missed it...
Radiology Imaging Network Newsletter

The sixth edition of the Radiology Imaging Network features updates on staff changes and appointments across the Network, and from the seven different programmes within it, as well as a look back on 2020 with a summary of the system's main achievements.

Read more.
Latest NHS Integrated Care Bulletin

The NHS England and NHS Improvement Integrated Care Bulletin provides the latest news and events on integrating health and care across the country, including examples of best practice from NHS, local government and voluntary sector partnerships.

Read more.
Wirral University Teaching Hospital welcomes £1 million A&E upgrade

A £1 million upgrade has now been completed at Arrowe Park Hospital Emergency Department with the aim of improving emergency care for patients.

The upgrade has provided eight side rooms, to allow for enhanced infection control measures. The project has been completed in just 12 weeks and is part of the Trust's strategy to keep patients safe during the busy winter period, while still responding to the ongoing COVID-19 pandemic.

Read more.
Cheshire and Merseyside Cyber Security Group Bulletin

The 30th Edition of the Cheshire and Merseyside Cyber Security Bulletin features news on scam COVID-19 messages, WhatsApp delaying its 'Data-Sharing' privacy update and includes details of upcoming webinars and events.

Read more.
Webinar set to explore the impact of COVID-19 on health inequalities in the North

The Health Equalities Group, Food Active, is set to host an event that will bring together public health professionals, policy leads, elected members, the third sector, academics and wider stakeholders from the North of England to explore how populations across the region have been affected by COVID-19 and how the pandemic is widening the gap between the North and South in terms of health inequalities.

The free webinar will go live on Thursday 28th January, 9:30am - 12:30pm.

Read more.
Media Roundup: 14th - 27th January

A summary of the latest key headlines from across the Cheshire and Merseyside footprint, including a snapshot of the most prominent discussions held on social media around health, social care and local authority services in the patch.

Read more.
Visit cheshireandmerseysidepartnership.co.uk for more information.
Copyright © Cheshire & Merseyside Health & Care Partnership, All rights reserved
Our mailling address is:
Cheshire & Merseyside Health & Care Partnership
Regatta Place | Brunswick Business Park | Summers Lane | Liverpool | L3 4BL