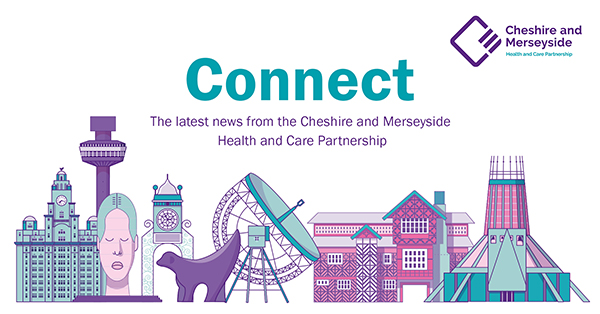 Issue 32, 12th March 2021

Dear Reader,

Welcome to this edition of Connect, the Health and Care Partnership's stakeholder newsletter.

I am really pleased that circulation of this continues to grow and hope that you enjoy it and find it informative.

Remember, the Cheshire and Merseyside Health and Care Partnership is made up of all the Local Authorities, CCGs, Hosital Trusts and thrid sector – all the bodies responsible for the planning and delivery of integrated health and care services. We work well together and the response to the pandemic, particularly, has shown that together, we are stronger. We do want to share information and showcase some of the fantastic work that takes place right across our footprint, by all of the organisations that are making such a difference to the lives of local people. Please do send us your contributions and stories, and feel free to give us feedback on how Connect could be even better.

In this edition, I thought I'd take the opportunity in my introduction to say how much I am looking forward to our future as both a thriving Partnership, and hopefully, as a designated ICS. This is, in part, because I know the wealth of talent, skill and dedication we have throughout the workforce of the partnership. This will be vital as the system develops and they will continue to have an important role, especially in our Places, as the ICS – your ICS – strives to achieve its mission "to tackle health inequalities, and improve the lives of the poorest, fastest. We believe that we can do this best by working in partnership". There is a lot to do, but I am assured by the invaluable expertise, drive and commitment of our people.

Also in this edition of Connect, you can learn more about the latest findings of our extensive insight research into our black, Asian and minority ethnic communities, as well as our usual Place and Programme updates, including the latest news from the COVID-19 Testing and Vaccination programmes.


Best wishes,

Jackie Bene
Chief Officer
Cheshire and Merseyside Health and Care Partnership
In this edition...
News and Features
| | |
| --- | --- |
| Cheshire and Merseyside Health Leaders Launch Drive to Help Ethnic Communities Feel Safe about Covid-19 Vaccine following findings from insight research | |
Cheshire and Merseyside Health and Care Partnership is teaming up with Black, Asian and Minority Ethnic communities to launch a campaign promoting vaccine safety.

Using insight from local research, representatives from ethnic communities will address questions about the vaccine in a series of radio adverts, videos, posters and social media adverts planned across the local area.

Read more.
| | |
| --- | --- |
| | In conversation: Joe Rafferty CBE reflects on one year of leading during a pandemic |
The overwhelming success of the Covid-19 vaccination programme so far has become somewhat of a beacon of light for the NHS during such unprecedented times. The pandemic has had a huge effect on the capacity of NHS services and continues to challenge health and care professionals across the UK.

In this interview, Joe Rafferty CBE, Chief Executive at Mersey Care NHS Foundation Trust, reflects on what is has been like running a busy mental health Trust during the pandemic, what it has been like leading the Out of Hospital Cell and much more.

Watch here.
Place and Programme Updates
Halton

New clinical research facility at Halton Hospital site opens

Halton is now home to a new, dedicated facility for clinical research and trials as part of an alliance with regional research partners.

Halton Clinical Research Unit (HCRU), within the Nightingale Building on the Halton site at Runcorn, will provide opportunities for residents across Halton, Warrington, Cheshire and Merseyside to participate in clinical trials and research close to home.

Read more.
Wirral

Dedicated COVID-19 vaccination clinic established for patients with learning disabilities and/or autism

A dedicated clinic has facilitated the immunisation of nearly 70 patients with learning disabilities and/or autism, and 42 carers in just one day. Primary Care Wirral has supported Healthier South Wirral PCN (HSW) via specialist staff and by providing a mobile clinical unit for patients who preferred to have their vaccinations outdoors. An associated case study is available to read.

Read more.
Mental Wellbeing

New partnership to help improve men's mental health across Wirral

Cheshire and Wirral Local NHS Trust (CWP) has partnered with a community organisation to help improve mental health services for men across Wirral.

This new partnership will see CWP's Mental Health Access Team, refer men to JourneyMEN's therapeutic services. JourneyMEN aim to provide a person-centred approach to support, including social interventions and peer-to-peer support to enable people to live their lives as independently as possible.

Read more.
COVID-19 testing programme

Update from COVID-19 Testing Programme for Cheshire and Merseyside – 12th March 2021

Health and Care staff across Cheshire and Merseyside are now more than likely to be tested for Covid-19 via a new method, LAMP testing.

Offering an alternative to the Lateral flow test, LAMP testing takes less time, enables better corporate reporting and requires less administration for Trusts and their staff.

Read more.
COVID-19 vaccination programme

Update from COVID-19 Vaccination Programme for Cheshire and Merseyside – 12th March 2021

More than a million vaccinations for Covid-19 have now been given to people across Cheshire and Merseyside.

The milestone comes after vaccine teams across Cheshire and Merseyside this week began to deliver doses to people in its next cohort aged between 55-59.

Read more.
Partnership COVID-19 response

Partnership Coordination Group update – 4th March 2021

The Partnership Coordination Group (PCG) meets fortnightly to support the coordination of activity and communication of Cheshire and Merseyside's health and care response to COVID-19, as well as other elements of partnership working.  

This briefing provides an overview of the discussions from the meeting held on Thursday 4th March.

Read more.
In case you missed it...
Cheshire and Merseyside completes roll out of child health system

Records from St Helens and Knowsley, Wirral and Warrington have been added to the CarePlus child health information system (CHIS). It enables care professionals to track children from childhood through to their transition to adult services.

Read more.
Webinar: How the NHS can get back on track after Covid?

A HSJ webinar that explored how the NHS will recover from the Covid-19 pandemic is available to stream now. Former health secretary, Stephen Dorrell, was joined by two leading commentators on 24th February to discuss how the NHS will tackle a backlog following its Covid-19 response. Speakers touched on dealing with elective referrals and emergency attendances as well as how the NHS can now make the best use of existing staff and facilities to drive productivity.

Watch here.
Public Health England relaunch and NHS England and Improvement relaunch national stroke campaign

Public Health England in partnership with NHS England and Improvement have relaunched the national "Act F.A.S.T." stroke campaign across national channels. The campaign is designed to inform the public about the signs of a stroke and to encourage people who recognise any single one of the symptoms of stroke, in themselves or others, to call 999 immediately.

Read more.
Latest NHS Integrated Care Bulletin

The latest NHS England and NHS Improvement Integrated Care Bulletin features reports on the Integrated Care Systems across London and the role of housing in the future of care and support. The bulletin also includes a spotlight piece on the recently published White Paper and information about upcoming webinars.

Read more.
Local Authority leaders nominate Health and Care workers for the freedom of their boroughs

Two Merseyside hospitals are set to receive the freedom of their boroughs in recognition of their efforts during the pandemic. St Helens and Knowsley Teaching Hospitals NHS Trust has been nominated for the prestigious awards by the leaders of Knowsley and St Helens councils.

Read more.
New Health Hub could host outpatient services at Runcorn Shopping City

Halton Borough Council and Warrington and Halton Teaching Hospitals (WHH) are creating a new Health Hub at nearby Runcorn Shopping City. From this hub, WHH is planning to offer Ophthalmology, Audiology, and Dietetics outpatient appointments.

Read more.
Cheshire and Merseyside Cyber Security Bulletin

The 33rd Edition of the Cheshire and Merseyside Cyber Security Bulletin features an important statement about video conferencing tools and information on the ITHealth Assurance Dashboard. The bulletin also includes additional resources such as NCSC Mobile Device Guidance and alarming cybersecurity stats.

Read more.
Media Roundup: 26th February – 12th March

A summary of the latest key headlines from across the Cheshire and Merseyside footprint, including a snapshot of the most prominent discussions held around health, social care and local authority services in the patch.

Read more.
We want to hear from you!
If you have a story you would like to feature in the next edition of Connect, please email cm.partnership@nhs.net.
Visit cheshireandmerseysidepartnership.co.uk for more information.
Copyright © Cheshire & Merseyside Health & Care Partnership, All rights reserved
Our mailling address is:
Cheshire & Merseyside Health & Care Partnership
Regatta Place | Brunswick Business Park | Summers Lane | Liverpool | L3 4BL