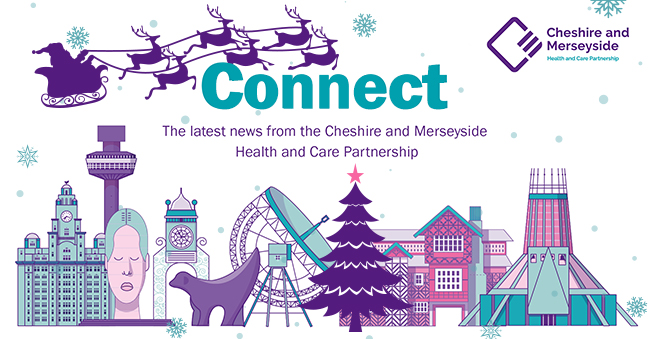 Issue 27, 22nd December 2020

Dear Reader,

Welcome to this Christmas edition of Connect, the Cheshire and Merseyside Health and Care Partnership's stakeholder newsletter.

As many of you will know, this weekend new restrictions were introduced across the UK, following advice from the Government's advisory group on New and Emerging Respiratory Virus Threats (NERVTAG). This advice highlighted concerns that the new variant of COVID-19, currently concentrated in tier 4 areas, could increase the reproduction number (R) of the virus by 0.4 or greater. I know for many of you, this news will have had an impact on your plans over the holiday period, but some comfort can be taken from the fact that we're all going through these challenging times together and most importantly, that we're taking these actions to protect our families, friends and communities.

We're in a much better position now than at the start of the year, as we've been right at the forefront of national thinking regarding testing, working in partnership with national government as one of the most forward thinking and progressive areas in the country using testing as a tool to not just find more cases, but to actively prevent transmission and help keep the R down. Additionally, we've already begun the delivery of our vaccine programme, which will significantly ramp up in the New Year, with more primary care network vaccine sites coming online over the next 3-4 weeks and additional hospital hubs, meaning we'll have the capacity to vaccinate and protect even more people.

I think it's fair to say as I reflect on how far we've come in 2020, that although it's been a particularly challenging year for us all, through working together in response to the COVID-19 pandemic, as a system that pools knowledge, expertise and financial resources, we've managed to accomplish some phenomenal achievements; none of which would have been possible without the support of each and every one of you. So I'd like to thank you all for your ongoing support and collaboration, and to wish you all a happy and healthy Christmas and all the best for the New Year ahead. We will continue our journey towards becoming an integrated care system (ICS) by April 2021, and further improve our position to meet future, and (as we've seen this year), unexpected demand on services in what are already financially challenging times.

Please do take the time to read through this edition on Connect. Alongside our usual Place and Programme updates, you'll also learn more about the Cheshire and Merseyside Resilience Hub service, which was launched last week to help NHS staff who may have faced trauma during the pandemic. To coincide with the launch of the service, a new website has gone live, which provides a valuable range of information, signposts users to the most applicable local psychological support service and in the future will support staff to self-refer to the hub.
  
 
Best wishes,

Jackie Bene
Chief Officer
Cheshire and Merseyside Health and Care Partnership
In this edition...
News and Features
| | |
| --- | --- |
| | Cheshire and Merseyside Resilience Hub launched to help NHS staff who may have faced trauma during the pandemic |
The Cheshire and Merseyside Resilience Hub (CMRH) website has now been launched giving NHS staff, managers and leaders across the region access to a wealth of self-help resources, information, support links and free wellbeing apps to support them through the COVID-19 pandemic.

Read more.
Place and Programme Updates
COVID-19 Vaccination Programme

Programme update for COVID-19 Vaccination in Cheshire and Merseyside

As the COVID-19 vaccination programme continues to rollout across Cheshire and Merseyside, Primary Care Networks (PCNs) have joined the three main Hospital Hubs to help administer the vaccine to people aged over 80 and NHS frontline staff.

This update highlights the incredible work done so far in the fight against COVID-19 as well as touching on the next phase of the programme during the festive period and beyond.

Read more.
Partnership COVID-19 Response

Partnership Coordination Group update – 17th December

The Partnership Coordination Group (PCG) meets fortnightly to support the coordination of activity and communication of Cheshire and Merseyside's health and care response to Coronavirus, as well as other elements of partnership working. 

This briefing provides an overview of the discussions from the meeting held on Thursday 17th December.

Read more.
Cheshire

East Cheshire NHS Trust introduces at-home monitoring for COVID-19 patients

East Cheshire NHS Trust has created a 'virtual ward' that lets healthcare professionals monitor COVID-19 patients from home. The service is one of the first of its kind in the North West and aims to provide added assurance to patients who have tested positive, including those in Macclesfield, Cheshire. At-home oxygen monitoring will be provided for eligible patients who are recovering from the illness at home, or outside of hospital.

Read more.
Warrington

New Midwifery led unit for Warrington and Halton Teaching Hospitals NHS Foundation Trust

A new £1.2 million midwifery-led unit for expectant mums and their new arrivals from all over the region opened its doors on 1 December, providing a home away from home birth experience.

'The Nest' is a relaxed, less clinical environment which creates a truly special labour and birth experience for all women. Warrington and Halton Teaching Hospitals NHS Foundation Trust (WHH) has invested in this new facility to provide more choice for women and their families.

Read more.
In case you missed it...
Clatterbridge Cancer Centre has been shortlisted for a top health award

The Clatterbridge Cancer Liverpool, which opened in June in the midst of the global COVID-19 pandemic, has been shortlisted for a major national award. The team that developed the specialist hospital have been awarded finalist status in the Built Environment category of the HSJ Partnership Awards 2021, which recognise outstanding dedication to improving healthcare and effective collaboration with the NHS.

The build was a collaboration between The Clatterbridge Cancer Centre NHS Foundation Trust, its estates subsidiary PropCare, architects BDP, contractor Laing O'Rourke, and infrastructure firm AECOM.

Read more.
COVID-19 test centre troops set to receive Freedom of Liverpool

Army regiments which helped to set up and run a mass coronavirus testing pilot in Liverpool are to be given the Freedom of the City. The 2,000 troops were deployed to the city in November and have helped carry out 200,000 tests at almost 50 centres. The city's coronavirus infection rates have since dropped from 680 cases per 100,000 people to fewer than 100.

Read more.
How to give 940 Covid Vaccines in one day – a PCN story

A recent blog by Dr Jonathan Griffiths, Primary Care Advisor for the Partnership, explores the role of GP surgeries in the fight against COVID-19. The blog shines a spotlight on how the Primary Care Network across Winsford has pulled together and adapted in order to deliver 940 vaccines in one day.

Read more.
Cheshire and Merseyside Cyber Security Group Bulletin

The 28th edition of the Cheshire and Merseyside Cyber Security Group Bulletin includes updates on the Trust Cyber Security Strategy and news about how supporting the cyber community keeps the NHS safe.

Read more.
Media Roundup: 10th December – 22nd December

A summary of the latest key headlines from across the Cheshire and Merseyside footprint, including a snapshot of the most prominent discussions held on social media around health, social care and local authority services in the patch.

Read more.
Visit cheshireandmerseysidepartnership.co.uk for more information.
Copyright © Cheshire & Merseyside Health & Care Partnership, All rights reserved
Our mailling address is:
Cheshire & Merseyside Health & Care Partnership
Regatta Place | Brunswick Business Park | Summers Lane | Liverpool | L3 4BL