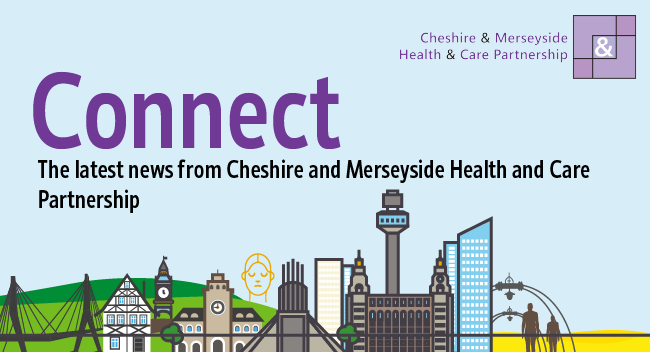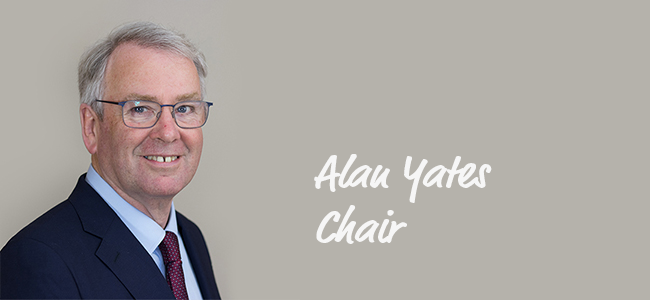 Welcome to the April edition of Connect, the Cheshire and Merseyside Health and Care Partnership's stakeholder newsletter.

First let me take the opportunity to offer my appreciation for all the efforts everyone is making at the moment to enable the people of Cheshire and Merseyside to get the best possible support we can offer during the Covid-19 pandemic. It's heartening that time and time again we have chosen partnership approaches to tackle this challenge. I am sure that the work the Partnership has done over the last three years or so is standing us in good stead.

The Partnership staff have refocussed their work so that, whilst not losing sight of the fundamental purpose of the Partnership, we are supporting the immediate work of addressing the Covid-19 challenge and particularly the Acute and Out of Hospital cells led by Ann Marr, Chief Executive of St Helens and Knowsley Teaching Hospitals NHS Foundation Trust, and Joe Rafferty, Chief Executive of Mersey Care NHS Foundation Trust. We are working on further ways to support this challenge and expect to be able to start that in the next few days.

In this edition of Connect, we'll be focusing on how the Partnership is supporting our key workers and people living and working in Cheshire and Merseyside during this difficult time. I think it is tremendous news that we are launching ALMA, a wellbeing website that has been developed by our Digital Programme and a multimedia mental health and wellbeing awareness campaign in partnership with Champs Public Health Collaborative.

I am delighted that Jackie Bene has been able to start with the Partnership a little earlier than expected and that will be enormously helpful on the immediate as well as the transformational work.

Please take the time to read through this edition of Connect. Now, more than ever, it is supportive to acknowledge the brilliant work of those within our Places, Programmes and partner organisations as well as giving us the benefit of the experience of colleagues who have tackled successfully things that we may want to engage in.

Best wishes,
Alan

Alan Yates
Chair, Cheshire and Merseyside Health and Care Partnership
SPECIAL FEATURE: Supporting you through Coronavirus
ALMA wellbeing website supports workforce and the public during the Coronavirus outbreak
The Partnership has launched ALMA, a wellbeing website that features a range of free apps and online courses, to support the health and wellbeing of people living and working in the region during the Coronavirus (COVID-19) outbreak.

Read more.
12 ways to look after yourself during Coronavirus
Taking care of your mind as well as your body is important while staying at home because of Coronavirus. You may feel bored, frustrated or lonely. You may also be low, worried or anxious, or concerned about your finances, your health or those close to you.

The Every Mind Matters campaign has put together 12 helpful tips and things you can do now to help you keep on top of your mental wellbeing and cope with how you may feel while staying at home.

Read more.
Looking after ourselves and each other; back to basics
Staying connected, being kind and giving ourselves a break are just some of the behaviours we should adopt when going through a difficult situation. Read this guest blog from the Partnership's Talent, Leadership and Organisational Development team on how the 5 Ways to Wellbeing provides a framework for building resilience during the Coronavirus outbreak.

Read more.
Mental wellbeing campaign launched by local councils and the NHS in Cheshire & Merseyside in response to Coronavirus outbreak

A new campaign has been launched across Cheshire and Merseyside with people urged to be kind to their minds during the Coronavirus outbreak. The campaign developed jointly by Champs Public Health Collaborative and the Cheshire & Merseyside Health & Care Partnership will run in April 2020 and aims to support the mental wellbeing of people living and working in Cheshire and Merseyside.

Read more.
Discussion points from Liverpool City Region Wealth and Wellbeing Summit
Over the course of 18 months, the Liverpool City Region Wealth and Wellbeing Programme has invited people to talk about health and wellbeing in or out of work, about the effect of poor health on the economy in the region and the effect of the economy on health. In February, a summit workshop was held to bring the learning so far into a set of recommendations for economic planning across the city region.

Read more.
Diabetes
MyDiabetesMyWay service launched in Cheshire and Merseyside

The Cheshire and Merseyside Health and Care Partnership has funded the development of an online platform called 'MyDiabetesMyWay', which is being launched this month.

The service provides people living with diabetes in Cheshire and Merseyside with free access to a range of clinically approved resources (including: videos, leaflets and eLearning courses) when they register online, with the aim of helping them to improve the self-management of their condition at home.

For more information about the MyDiabetesMyWay service and to help promote it in your local area, you can view and download a range of communications resources here.

Read more.
Palliative Care
1,200 staff to receive specialist end of life care communications training

Over 1,200 frontline health staff in Cheshire and Merseyside will benefit from Advance Care Planning and Communications Skills training for end of life care, which is being supported by Health Education England (HEE).

The training, which is often referred to as the Mayfly Programme, empowers staff to help patients and those close to them plan for their future care and decide on any end of life care preferences. This is an incredibly sensitive topic for patients and their families, which is why communication skills, as well as knowledge of end of life care, is a fundamental part of this training.
Population Health
Key Messages from the NO MORE Suicide Partnership Board

The latest NO MORE Suicide Partnership Board meeting included discussions around funding, a rapid evidence review from Everton in the Community, areas for improvement in mental health Trusts and much more.

Read more.
Workforce
Doing things Differently in Cheshire and Merseyside; A system leadership approach

Leadership skills and behaviours, both at individual and collective level, set the tone for the cultures we create across our collaborative and partnership working. This is never more important than when we are experiencing times of challenge and crisis such as those that our health and care systems are facing right now.

Exploring effective system leadership skills has been the focus of the first cohort of the Partnership's Doing things Differently programme, which launched in February 2020.

Read a guest blog from Lisa Gresty, Talent, Leadership and Organisational Development lead, and Gill Phazey, Organisational Development and Leadership Associate about the first two days of this exciting and innovative programme.

Read more.
Cancer
Cancer Support Workers in Cheshire and Merseyside working hard to make a difference to patient care

With increasing pressures on the clinical workforce, Cancer Support Workers are in a unique position to work alongside healthcare professionals to provide high quality personalised care and support to patients throughout the diagnostic pathway, through to treatment and follow up.

For the last three years, the Cheshire and Merseyside Cancer Alliance has invested in a number of Cancer Support Workers to support the local population. Read more about this important work and how these support workers are changing lives.

Read more.
Digital
Connected information exchange supports Trusts to share information and provide excellent patient care

When a patient was admitted to hospital with diabetic ketoacidosis, a serious complication of type 1 diabetes, and very little ability to explain their condition, clinicians had limited time to assess if Intensive Care Unit (ICU) and further investigation was the only option, or if something else could be done.

With Share2Care E-Xchange, a Cheshire and Merseyside connected information exchange, the clinician was able to access a wealth of information about this patient, including discharge notes from another hospital and previous successful treatments.

Read more.


Liverpool
Voluntary and community sector programme shown to improve health and wellbeing of communities in Liverpool

A report has been published detailing the success of 'Turning Tides', a community-based project led by Liverpool CCG from 2015 to 2018. Over the three years, the CCG partnered with a total of 88 community, voluntary and faith organisations, as well as social enterprises, in order to support over 50,000 residents (10% of Liverpool's population) to improve their health and wellbeing.

Read more.
Cheshire
Cheshire CCGs make climate change pledge

The recently merged CCGs in Cheshire have pledged to treat climate change as a top priority, with considerations for the environment made throughout all decision-making and activities within the CCG, including commissioning, contracting, employment, partnership working and premises and logistics management. The move follows similar public commitments by key local authority partners Cheshire East Council and Cheshire West and Chester Council.

Read more.
St Helens
St Helens community hub to offer pregnant women alternative to hospital

Work is due to start on a community hub in St Helens where low-risk women will be able to give birth as an alternative to hospital. The 24-hour children and families community hub will be based in Lowe House Health Centre, Crab Street, St Helens, which already houses several NHS services.

Read more.


Liverpool
ONE Liverpool strategy outlines plan for a healthier and happier city

The One Liverpool Strategy describes how Liverpool's health and care system, including hospitals, GPs, community organisations, health commissioners, the council, and the voluntary and community sector, will work together to tackle the city's health challenges and reduce the life expectancy gap.

Read more.
NHSX encourages workforce to have their say on Tech Plan for health and care

NHSX, the organisation driving digital transformation in health and care, has launched a period of engagement on the Tech Plan for health and care. The NHS and social care future depend on getting technology right and your views will help shape how technology is used to improve health and social care for all.

Read more.
North West leads the way on national mental health quality improvement

There's still a long way to go, but the North West is the best performing area for early intervention in psychosis services. The NHS Five Year Forward View set the ambitious target of 25% of service meeting NICE Level Three standards. The area has surpassed this and is currently at 35%.

The reality of leading for population health: starting with A, B, C

The Partnership's work to understand the local population, their needs and the assets that exist locally to help meet these needs has been highlighted in this blog from Prof Dr Durka Dougall.

Podcast: Removing the 'impossible' tumour

Alder Hey Children's Hospital made the impossible possible when treating six year old Leah Bennett thanks to a 3D model and an unrelenting team at Alder Hey, including a vascular specialist from Liverpool University Hospitals.

Protecting the psychological wellbeing of healthcare staff during the coronavirus pandemic

Healthcare leaders and managers must take proactive steps to protect the psychological wellbeing of their staff during and after the coronavirus outbreak, according to the British Psychological Society.

Leadership in a crisis – the importance of courage and caring

Read this blog from Juliette Kumar, Innovation Agency's Associate Director for Improvement and Education, about how organisational culture and compassionate leadership will help health and care organisations weather the Coronavirus storm.

Free access to wellbeing apps for all NHS staff

NHS staff have been given free access to a number of wellbeing apps from now until the end of December 2020 to support their mental health and wellbeing. These include some of the most well-known apps on the market, including Headspace and Sleepio.

New research shows alcohol minimum unit price could save almost 8,000 lives in north of England

Research from the University of Sheffield has demonstrated that introducing a 50 pence Minimum Unit Price (MUP) for alcohol in England would see alcohol consumption in some areas in the North falling by almost twice the national average.

Staying cyber savvy while at home

The Cheshire and Merseyside Cyber Group is reminding you to be vigilant and aware of cyber-attacks, as recent cases have demonstrated that criminals are using the Coronavirus outbreak to access healthcare workers' systems extract important information.