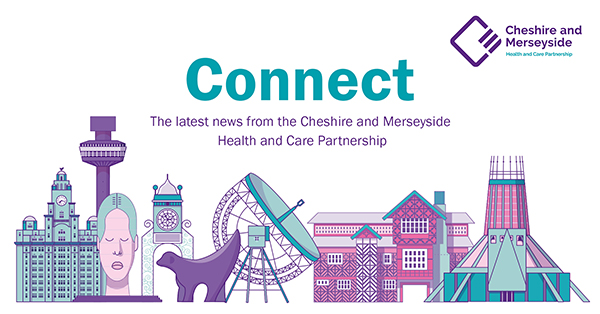 Issue 35, 22nd April 2021

Dear Reader,

Welcome to the latest edition of Connect.

As ever, there is lots to inform you about, but we'd still like to include more from our partners and stakeholders. Please do send us your stories or information you'd like us to share.

I'm delighted that we have now published the Partnership's five year strategy 'Improving health and wellbeing in Cheshire and Merseyside'. This is the culmination of lots of work and engagement and is a clear outline of our ambitions and priorities going forward. We hope that you will share this with your stakeholders.

Also included is the usual update on Covid related activities, including the ongoing, successful vaccination programme. Around 90% of eligible adults have now been offered the vaccine. The vast majority have taken up the offer, but there are still some people in the priority cohorts – including front line health and social care staff – who seem reluctant. It is essential that no-one gets left behind so if you, or one of your colleagues, or a family member who is eligible, is still to be vaccinated, please encourage them. Getting vaccinated is the safest way to protect ourselves, our loved ones and our patients. I also want to reinforce the message for people who are due to have their second dose – please keep your appointment. Maximum protection is achieved by getting two doses and these second doses are guaranteed, even when vaccine supply is limited.

And, as well as much more, you'll see that we have now agreed the process and principles for recruiting to posts within the ICS and CCGs during this next year as we develop into a statutory ICS.


Best wishes,

Jackie Bene
Chief Officer
Cheshire and Merseyside Health and Care Partnership
In this edition...
News and Features
| | |
| --- | --- |
| Partnership publishes 2021-2025 strategy | |
The Partnership has now published its strategy 'Improving Health and Wellbeing in Cheshire and Merseyside 2021-2025'. The document sets out the Partnership's vision, mission and strategic objectives as well as five-year aspirations. The strategy follows engagement across the system to determine priorities and incorporates the NHS England and Improvement set objectives for Integrated Care Systems and experiences from the Covid Pandemic. Please share this widely with your stakeholders and within your networks.

Read the strategy here.
| | |
| --- | --- |
| | Cheshire and Merseyside residents amongst first in country to receive the new Moderna vaccine |
Merseyside's mass vaccination centre is one of the first sites in the country delivering the new Moderna vaccine.

The first Moderna jabs were delivered in England on 13th April, with residents in Merseyside and Cheshire being among the first to receive them. More than 20 sites, including the mass vaccination centre at the Totally Wicked Rugby League Stadium in St Helens, will initially use the newest vaccine, as the vaccination programme continues to expand.

Read more.
| | |
| --- | --- |
| NHS COVID-19 Vaccination Bus launches in Liverpool | |
The local NHS is working with Liverpool City Council, Arriva, and local GP practices to deliver a COVID-19 vaccination bus for the city.

The mobile vaccination clinic, which launched on 18th April, is part of a plan to help improve vaccine access in areas where take-up has been lower. There is already evidence that people in more deprived parts of the city are less likely to have had the vaccine, as well as those in some local black, asian and minority ethnic communities.

Read more.
Place and Programme Updates
Cheshire East

New Test and Trace Covid-19 pilot programme starts in Cheshire East

Cheshire East Council and NHS Test and Trace have launched a new pilot scheme to help reach individuals, who have tested positive for Coronavirus, sooner.

Known as 'Local-0' (zero), this new joint initiative will help the council to contact local people who have tested positive and their contacts directly rather than the national service. The initiative will enable the team at the council to use their local knowledge and expertise to determine where people may have caught the virus, which will help identify possible local outbreaks faster to help keep residents safe.

Read more.
St Helens

Volunteer led service stays connected with women during lockdown

'Parents in Mind' is a peer support service in St Helens provided by the National Childbirth Trust (NCT) which supports women experiencing mild to moderate mental health issues in pregnancy and up to two years after giving birth. During the Covid-19 pandemic and the subsequent lockdowns, the service hugely adapted its offer to continue to support women during a time when they may have felt even more vulnerable and isolated.

Read more.
Liverpool

Liverpool Women's using pioneering robotic-assisted surgery to tackle Endometriosis

Liverpool Women's NHS Foundation Trust is aiming to provide better treatments for women with Endometriosis with the help of robotic surgery.

Treatment options available to women include pain killers in the form of non-steroidal anti-inflammatory drugs, alone or in combination with hormonal agents, such as the combined oral contraception pill, progesterone only pill, progesterone containing coil or implant. Additionally, GnRH agonist injections to induce a temporary menopause like state can be utilised for a limited time period.

Read more.
Cancer

Merseyside woman benefits from new 5-minute breast cancer treatment at Clatterbridge

A Merseyside woman receiving breast cancer care from The Clatterbridge Cancer Centre NHS Foundation Trust has benefited from a treatment that is being rolled out across the NHS to dramatically reduce the amount of time that patients need to spend in hospital.

Read more.
Mental Wellbeing

The Cheshire and Merseyside Resilience Hub announces self-referral pathway for all local NHS Trust staff

The Cheshire and Merseyside Resilience Hub (CMRH) has announced that its self-referral pathway is now available to all NHS trust staff who live and/or work in Cheshire and Merseyside. The aim of the hub is to ensure that any staff who feel that their wellbeing has been impacted by COVID-19 have access to the right support, wellbeing resources and psychological help to get them through the pandemic and beyond.

Read more.

COVID-19 Testing programme

Update from COVID-19 Testing Programme for Cheshire and Merseyside – 22nd April

The latest Covid-19 testing update includes information around Covid cases and universal testing. The overview also looks at testing routes available, dependant on individual situations.

Read more.
COVID-19 Vaccination programme

Update from COVID-19 Vaccination Programme for Cheshire and Merseyside - 22nd April

The latest Covid-19 vaccine update provides an insight into vaccine supply and how the programme intends to reach the most vulnerable communities as well as cohort eligibility information and pregnancy advice.

Read more.
Partnership COVID-19 response

Partnership Coordination Group update – 15th April 2021

The Partnership Coordination Group (PCG) meets fortnightly to support the coordination of activity and communication of Cheshire and Merseyside's health and care response to COVID-19, as well as other elements of partnership working.  

This briefing provides an overview of the discussions from the meeting held on Thursday 15th April 2021.

Read more.
In case you missed it...
Partnership publishes set of principles and new job opportunities

The Partnership has issued a set of principles for recruitment to posts in the Integrated Care System and Clinical Comissioning Groups during the current year. A number of roles are currently being offered on a secondment and fixed term basis.

The principles that will underpin how the Partnership will communicate and work collaboratively over the next year and beyond can be found here. For further information about job opportunities please email cm.partnership@nhs.net.
HSJ Awards 2021 entry submissions

The awards categories for the HSJ Awards 2021 are now open, with categories such as 'Connecting Services and Information', 'Digitising Patient Services Initiative' and 'Driving Efficiency through Technology'.

We'd advise you, on behalf of the organisations you work for, to look at the categories and the eligibility for entering. There's still time to put together and submit your entry prior to the 4th June deadline.

If you would like to discuss any entry submissions you would like to put in on behalf of the Cheshire and Merseyside Health and Care Partnership, please contact cm.partnership@nhs.net.

Read more.
Cheshire and Merseyside Digital Bulletin

The latest Cheshire and Merseyside Digital Bulletin includes news of the new digital Programme Management Office and updates from the Care Homes Digital Services and Combined Intelligence for Population Health Action (CIPHA) programmes and much more.

Read more.
Cheshire and Merseyside Cyber Security Bulletin

The 36th edition of the Cheshire and Merseyside Cyber Security Bulletin features news of a critical risk to unpatched Fortinet VPN devices and resources from the Cheshire and Merseyside Cyber Incident management exercise.

Read more.
Media Roundup: 10th April – 22nd April

A summary of the latest key headlines from across the Cheshire and Merseyside footprint, including a snapshot of the most prominent discussions held around health, social care and local authority services in the patch.

Read more.
We want to hear from you!
If you have a story you would like to feature in the next edition of Connect, please email cm.partnership@nhs.net.
Visit cheshireandmerseysidepartnership.co.uk for more information.
Copyright © Cheshire & Merseyside Health & Care Partnership, All rights reserved
Our mailling address is:
Cheshire & Merseyside Health & Care Partnership
Regatta Place | Brunswick Business Park | Summers Lane | Liverpool | L3 4BL