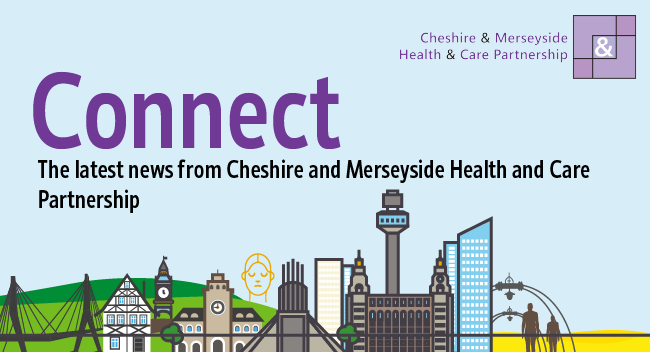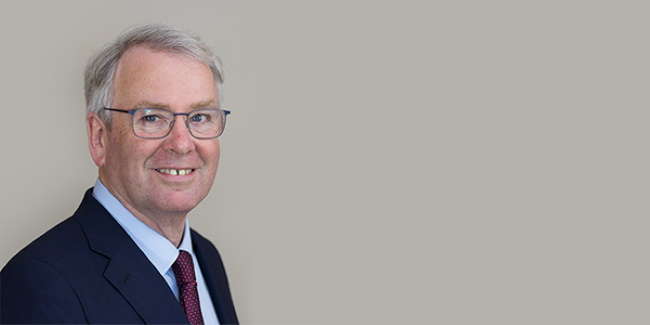 Welcome to the Cheshire and Merseyside Health and Care Partnership's first Connect newsletter of 2020.

Many of you will know that we commissioned some stakeholder engagement work as I started in post to try to obtain a thorough assessment of the position of the Partnership rather than a "collection of anecdotes". This use of evidence for our actions and decisions will be a recurring theme for the Partnership. Thank you to everyone who took part either in the online survey or the more in-depth interviews. The feedback from "Influential", the company who conducted the research, was that they had a higher response rate than normal which I take to be a good sign of interest and commitment. There was 95% support from respondents for partnership working which is very encouraging.

The question is how do we take that support on to the next stage of practical working? I want us to work out how to do that transparently and inclusively. There were three main themes came out of the work; that the purpose of the Partnership was insufficiently clear, that the working arrangements were under-developed and difficult to navigate and that communications were not effective enough. On the basis of the report, I want us to use the next Partnership forum on 31st March, which will include Local Authority and NHS Chairs, Chief Executives, Accountable Officers and representatives of various constituencies, to tackle these themes and answer some key questions. Once we have answered the questions the research poses, we will publish the research in full, together with the Partnership's response.

As I said at the top, the use of evidence will be a recurring theme of the Partnership and part of that evidence is good practice. Increasingly we will use Connect to herald good practice and give everyone the opportunity to benefit from it. Please contact the leads of these initiatives and see what you can learn from them. It has at least two benefits, first those taking initiative receive encouragement and second, as a system we will make more improvements, faster.

Please do take the time to read through this edition of Connect. I would like to add my appreciation to the Places and Programmes whose tremendous work is illustrated in this newsletter.

Best wishes,
Alan

Alan Yates
Chair, Cheshire and Merseyside Health and Care Partnership
Coronavirus: How you can help
Cheshire and Merseyside is playing an incredibly important role in the response to the conoravirus (COVID-19) outbreak. For example, staff at Wirral's Arrowe Park Hospital have been commended for their support in managing the global epidemic, by hosting British nationals from China as they underwent a two week quarantine.

While the outbreak may result in some extra strain on public sector resources, the UK is extremely well prepared to deal with the conoravirus. Whether you are a clinician, social worker, school nurse or work in any other role in which you are working with members of the public, it is important that you keep yourself informed on where to direct people who suspect that they have the virus.

Please read the latest guidance from NHS England, which can be found here, as well as the latest updates from the government on the number of positive cases and the current risk level, which can be found here.
Clinical leader appointed as Partnership's Chief Officer

We are delighted to announce the appointment of Dr Jackie Bene as the Partnership's Chief Officer.

Jackie has been Chief Executive of Bolton NHS Foundation Trust for the last seven years, she brings a wealth of experience which will benefit the people of Cheshire and Merseyside.

Read more.
Success for Medicines Optimisation Programme
A programme to improve medicines across Cheshire and Merseyside has won the Value and Innovation award at the National Healthcare Finance Awards.

The programme was delivered in partnership with Mersey Internal Audit Agency (MIAA) and is just one of many examples of the Partnership's Collaboration at Scale (CaS) programme, which works to tackle the financial and system pressures that are currently prolific in the NHS.

Read more.
£1.3 million funding secured to reduce lives lost to cancer in Cheshire and Merseyside
As an area, Cheshire and Merseyside is one of the top beneficiaries of national funding from NHS England's Cancer Transformation Fund.

£1.3 million of this funding is being spent on three projects that will encourage an uptake in screening for breast, bowel and cervical cancer.

Read more.
North West Boroughs receives positive CQC rating for third year in a row
North West Boroughs Healthcare NHS Foundation Trust is celebrating an overall Care Quality Commission (CQC) rating of 'Good' for the third year running.

The regulator highlighted the organisation's effective leadership, supportive staff, compassionate services, and much more.

Read more.
Partnership shortlisted for two awards for work with MIAA
The Partnership's close working with MIAA has received further recognition, this time at the Public Finance Awards.

Both organisations have been jointly shortlisted in the 'Alternative Service Delivery Model of the Year' and 'Excellence in Public Sector Audit Award.'

Read more.
Cancer
Rapid Diagnostic Centres live in Cheshire and Merseyside

The latest edition of Cheshire and Merseyside Cancer Alliance's 'Cancer Alliance Connections' newsletter includes an update on new Rapid Diagnostic Centres in Cheshire and Merseyside. The purpose of these centres is to assist with diagnosing cancer earlier, a key element of the NHS Long Term Plan. Also featured in the newsletter is the Knowsley and Halton Lung Health Check service, the first service of its kind to be launched in the country, a pilot of FIT (faecal immunochemical) testing kits which launched this month and much more.
Elective Care
Endoscopy Clinical Network introduces pilot standardised pathway across Cheshire and Merseyside

One of the seven specialities within the Elective Care programme, endoscopy, has recently agreed - and is now piloting - a standardised pathway for screening. This pathway ensures that there is a consistent approach to patient care across the region and delivers savings of over £161,000 per year. Further to this, the Clinical Network has reviewed management processes in order to best make use of resources within Endoscopy sites, delivering a potential saving of £1.25 million per year.

This collaborative approach to endoscopy is the result of the Endoscopy Clinical Network, which includes representatives from all endoscopy sites across Cheshire and Merseyside and is led by Consultant Gastroenterologist, Dr Ash Bassi and Dr Neil Haslam, lead of the Endoscopy Programme. To find out more about the Elective Care Programme and the Endoscopy Clinical Network, please contact jean.ellis@liverpoolft.nhs.uk.
Collaboration at Scale
Introduction of standardised rate cards for temporary staffing

At the end of last year, a standardised rate card was introduced for all agency medical and nursing staff within acute Trusts in Cheshire and Merseyside. This change, introduced by the Collaboration at Scale (CaS) programme, aims to ensure that Trusts are paying fair and consistent rates for temporary staff.

Significant progress has been made so far to develop and adopt this standardised rate card, and the CaS programme, led by Programme Director, Terry Whalley, is encouraged by the engagement the rate card has had so far. This piece of work is just one example of how CaS is adopting a common-sense approach to delivering excellent heath and care at scale across Cheshire and Merseyside, whilst ensuring that public money is being protected and spent in an efficient way.

If you have questions about this project, please take a look at the frequently asked questions on the Partnership's website or please contact Terry Whalley, Programme Director for the CaS programme by emailing terry.whalley@nhs.net.
Cardiovascular Disease
Cardiovascular disease (CVD) programme reaches key milestones

Read the latest newsletter from the Partnership's CVD programme, which includes an update on a number of pilots, including an endocarditis multidisciplinary team and a mental health screening programme for those with serious heart conditions.

As well as this, the programme has celebrated over 1,000 health checks performed at a WellPoint Health Kiosk at Liverpool Heart and Chest Hospital, which encourages members of the public to have their blood pressure checked and provides suggestions on how to improve heart health.
Urgent Care
Respiratory Improvement programme helps deliver aims of NHS Long Term Plan

The Cheshire and Merseyside Respiratory Improvement programme has made use of transformation funding to introduce a dedicated workforce of Physician Associates that provides respiratory care across Cheshire and Merseyside. Respiratory health has been outlined as a key priority in the NHS Long Term Plan, which means that this dedicated workforce is playing a key role in delivering on this priority in the area.

So far, the programme has delivered significant savings on medicines management, as well as over 3,200 patient consultations, with 880 patients identified as requiring further pulmonary tests, which previously would not have been identified.

To learn more about this programme, visit this dedicated web page or contact Natasha Odita, Programme Manager by emailing Natasha.Odita@lhch.nhs.uk.
Women's and Children's
Community-based midwifery team celebrates 100 babies delivered

Community midwives at Seacombe Birth Unit, based in Wirral University Teaching Hospital NHS Foundation Trust, have recently welcomed their 100th baby into the world.

The specialised service, which is supported by the Improving Me Partnership, is one of the first of its kind in the North West and provides continuity of care to families before and after their baby has been born. Set up just over a year ago, the six experienced community midwives, known as the Highfield Birth Team, give expectant mums access to a known midwife 24-hours a day, 7 days a week without the need to go into hospital.

To find out more email wuth.birthteam@nhs.net or call 0151 666 3131.
Primary Care Transformation
Latest Primary Care Transformation Stakeholder bulletin

Read the latest Primary Care Transformation update to learn more about the Primary Care Academy, a training hub that focuses on workforce development, as well as Time for Care, a scheme which has freed up a significant amount of time for patient care. The update also includes further information about Digital First Primary Care, an innovative project that allows patients to access online consultations, appointment booking, repeat prescriptions and medical records.
St Helens
Wrap around care the new norm in St Helens

Four St Helens residents have spoken about their experience of Contact Cares, a scheme set up in the area to provide 'wrap around care' in the community, instead of fragmented care at different sites. This scheme is a shining example of how health, social care, housing and voluntary organisations now work closely together for the benefit of patients.

Read more about Contact Cares here and watch the four films here.
Liverpool
Lives saved through pioneering initiative

A scheme that encourages smokers to get checked for lung cancer has reached a significant milestone. By inviting those deemed at 'high risk' to a GP appointment and follow-up CT scan, the cancer can be detected and treated much earlier, increasing the likelihood of survival.
Cheshire West
100 days to transform respiratory in Cheshire West

Cheshire West Integrated Care Partnership has established a working group encompassing community and acute health services, as well as primary care, commissioning and the community sector to help meet the respiratory challenge. The group meets every 100 hours for 100 minutes to progress improvement work at a rapid pace.

Since launching in November 2019, the group has already delivered the following improvements:

An integrated pathway to support discharge within A&E to ensure wraparound care plans are in place to support more patients to return home.
Faster access to pulmonary rehabilitation classes.
Drop-in style Breathing Café support groups in Chester and Ellesmere Port.
A lead worker to accelerate the roll out of the MyCOPD App.
Personalised self-management plans for people under the care of the Specialist Respiratory Team.
Training packages for Care Community Teams - including advice on supporting people at home, inhaler techniques and anxiety management. This offer will also be extended to Practice Nurses.
Interested in joining the respiratory working group? Email: emma.woolfall@cheshirewestandchester.gov.uk.
Have your say on the Partnership's work with Primary Care Networks

Dr Jonathan Griffiths, a GP in Winsford with over 20 years' experience in the NHS, is working with the Partnership to understand how Primary Care Networks (PCNs) in Cheshire and Merseyside align with the current plans for primary care transformation.

As part of this work, Dr Griffiths is looking to engage with PCNs and those within primary care to understand the current challenges and how the Partnership can work collaboratively to address these challenges.

If you are interested in contributing to this piece of work, please contact Dr Griffiths by emailing jonathangriffiths@nhs.net before Friday 13th March.
CANDDID Conference 2020: ADHD and other neurodevelopmental disorders

The second annual conference for the Centre for Autism, Neurodevelopmental Disorders and Intellectual Disability (CANDDID) will be on 1st May 2020 at Ellesmere Port. Download the conference programme to find out more about what will be discussed on the day.
Liverpool City Region puts health at the heart of spatial planning as part of engagement strategy

A recent consultation led by the Liverpool City Region Combined Authority asked people to consider how their homes and public spaces affect their health. This forms part of a wider drive from Liverpool City Region Metro Mayor, Steve Rotheram, to reduce health inequalities and ensure that those living and working in the area enjoy long and happy lives. To learn more about the Liverpool City Region Combined Authority's plans and to have your say, visit the LCR Listens website.
Applications open for £2.1 million funding from The Health Foundation



Common Ambition is a new programme launched for Partnerships to improve health care services by working with the third sector. The programme will support up to five ambitious teams across the UK with funding of £300,000 to £500,000 for two to three years. Make sure to get your application in before 20th March 2020.



NHS Future Health and Care Bulletin: Reducing health inequalities through primary care networks



The latest bulletin from NHS England includes a fascinating podcast about how Primary Care Networks could be the key to tackling health inequalities.

Health Equity in England: The Marmot Review 10 Years On

A stark warning from Sir Michael Marmot forms his 10-year review. For the first time in 100 years, life expectancy has not increased and health inequalitites are leaving people in poorer health than ever before.

Integrated Care in Action Week: 9-15 March

What is a STP? What makes it different from an ICS? Integrated Care in Action Week aims to answer these questions and many more. Make sure to keep an eye out on the Partnership's Twitter page that week - you may even learn something you didn't already know.

New taskforce to tackle 'diversity deficit'

The NHS Confederation has launched an independent taskforce to improve non-executive diversity on boards and governing bodies. The taskforce will develop an equality and diversity framework to guide the recruitment and retention of chairs and non-executives.

Military March is here

Be part of Military March, a month-long social media campaign celebrating the Armed Forces community within the NHS. Find out more and join the conversation on Twitter using #MilitaryMarch.