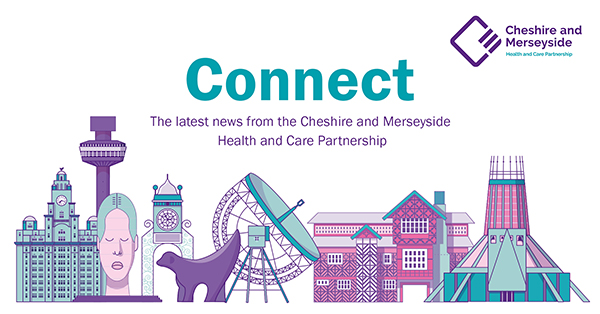 Issue 31, 26th February 2021

Dear Reader,

Welcome to this edition of Connect, the Health and Care Partnership's stakeholder newsletter.

The COVID-19 pandemic has had a significant effect on all our lives, and very sadly, taken away some of our friends and loved ones.

However, we have seen some incredible achievements within the health and care system and in the sheer resilience of our communities for which we are all truly grateful. It has been incredibly impressive to see how closely and collaboratively people have worked together for the benefit of population. This is a great platform upon which to build further and with this in mind I offer my thoughts and reflections on how we've worked together and on the government's recently published White Paper on the future of Health and Care, in the news and features section below.

Also in this edition of Connect, you can learn more about the first of many resources we have produced thanks to our extensive insight into our black, Asian and minority ethnic (BAME) communities, as well as our usual Place and Programme updates, including the latest news from the COVID-19 Vaccination Programme.

Best wishes,

Jackie Bene
Chief Officer
Cheshire and Merseyside Health and Care Partnership
In this edition...
News and Features
| | |
| --- | --- |
| Partnership's Chief Officer reflects on recently published White Paper and what this means for Cheshire and Merseyside | |
A recently published government White Paper on the future of Health and Care has highlighted the significant change and deeper integration required for Integrated Care Systems across the country to adequately transform care.

Read this blog from Jackie Bene, the Partnership's Chief Officer, on what this means for Cheshire and Merseyside and how the local system is already starting on a strong and capable footing.

Read more.
| | |
| --- | --- |
| | Resource: Refreshed ethnicity profiles for Cheshire and Merseyside |
The Partnership has produced a booklet providing an up-to-date overview of the ethnicity profiles across Cheshire and Merseyside.

The document will enable each locality to have a better understanding of the ethnic makeup of their population, so that Places can ensure that interventions are more targeted and effective for different ethnic groups.

Read more.
Place and Programme Updates
St Helens

Transport Secretary pays virtual visit to St Helens to thank COVID vaccine delivery staff

Secretary of State for Transport, Rt Hon Grant Shapps MP, visited the St Helens Saints stadium virtually on Friday 12th February to see first-hand the efforts of those involved in delivering COVID-19 vaccinations.

Mr Shapps took part in a video call to thank the team behind the vaccination clinics at the Saints stadium - both the GP-led clinic and the mass vaccination centre that is run by St Helens and Knowsley Hospitals NHS Trust.

Read more.
COVID-19 Vaccination

Programme update for COVID-19 Vaccination in Cheshire and Merseyside – 25th February 2021

The COVID-19 Vaccination Programme is continuing to vaccinate Cheshire and Merseyside's eligible population at a significant pace.

This has been assisted by the opening of two new mass vaccination sites in Cheshire: Alderley Park Conference Centre in East Cheshire and Chester Racecourse in West Cheshire.

Read more.



Partnership COVID-19 response

Partnership Coordination Group update – 19th February 2021

The Partnership Coordination Group (PCG) meets fortnightly to support the coordination of activity and communication of Cheshire and Merseyside's health and care response to COVID-19, as well as other elements of partnership working.  

This briefing provides an overview of the discussions from the meeting held on Thursday 18th February.

Read more.

Cheshire

Health chief hails heroic effort to protect Cheshire's most vulnerable from COVID-19

Clare Watson, Accountable Officer for NHS Cheshire Clinical Commissioning Group, applauded volunteers and nurses for their dedication to the vaccine programme so far and urged people of all backgrounds and from all walks of life take up the offer when they are invited for a COVID-19 vaccination.

Read more.
In case you missed it...
New webinar set to explore opportunities for systems to improve patient outcomes using digital and data

An upcoming Social Care Institute for Excellence (SCIE) webinar is set to explore how systems can bring together digital transformation and population health management to improve patient outcomes, and support partnership working.

The webinar builds on ambitious plans to use digital and data to drive system working, connect health and care providers, improve outcomes and put the citizen at the heart of their own care. The online event will also open up discussions around opportunities and challenges as well as sharing examples of where this is working well.

The free event will take place 5th March, 12:00pm - 13:15pm. Register your interest here.

Read more.
Cheshire and Merseyside introduce population health management dashboard to manage pandemic working

At the beginning of the COVID-19 pandemic, the Partnership dramatically accelerated work to share data and intelligence between local organisations. This HSJ article looks back on the introduction of population health management dashboards to better understand the region's pandemic pressures and looks forward to the development of this aid for other areas.

Read more.
Cheshire and Merseyside Cyber Security Group Bulletin

The 32nd Edition of the Cheshire and Merseyside Cyber Security Bulletin features news on misconfigured cameras using RTSP, spy pixels in emails and cyber-attacks on two French hospitals. The bulletin also includes full details of upcoming webinars and resources to share.

Read more.
Podcast: What the new white paper means for the NHS

This HSJ podcast delves into what the government's health and care white paper will really mean for the NHS. Featuring a number of guest speakers, the HSJ Health Check team discuss how the proposals, if passed, would give the health secretary far-reaching powers over NHS England, other arm's length bodies and local reconfigurations.

Listen here.
Latest NHS Integrated Care Bulletin

The NHS England and NHS Improvement Integrated Care Bulletin provides the latest news and events on integrating health and care across the country, including examples of best practice from NHS, local government and voluntary sector partnerships.

Read more.
Media Roundup: 12th February – 25th February

A summary of the latest key headlines from across the Cheshire and Merseyside footprint, including a snapshot of the most prominent discussions held around health, social care and local authority services in the patch.

Read more.
Visit cheshireandmerseysidepartnership.co.uk for more information.
Copyright © Cheshire & Merseyside Health & Care Partnership, All rights reserved
Our mailling address is:
Cheshire & Merseyside Health & Care Partnership
Regatta Place | Brunswick Business Park | Summers Lane | Liverpool | L3 4BL