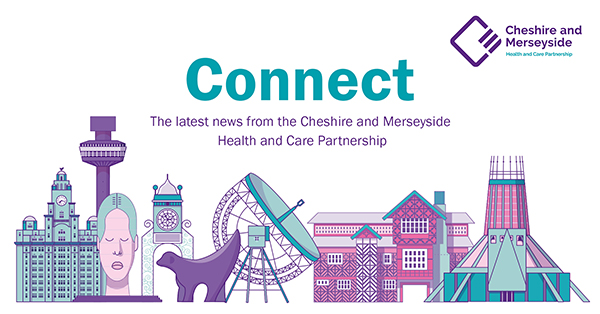 Issue 34, 9th April 2021

Dear Reader,

Welcome to the latest edition of Connect, we hope you enjoy it.

Our Covid vaccine programme continues apace, with over 1.5m doses administered across Cheshire and Merseyside. Although supplies may be limited at times over the next few weeks, vaccination is continuing.

We are urging everyone in cohorts 1-9 – that is everybody over 50 or clinically vulnerable – to make their appointment if they haven't already done so. It's important that no-one gets left behind, particularly as the lockdown is relaxed. The programme of second doses is also well under way now and is not affected by any limitations.

Please help us share the message that people must get their second dose if they are to get maximum protection against Covid, so they should make and keep their appointments. More information is available in our Covid section.

There's lots more news in Connect, including an update from the latest Partnership Board meeting; recognition for St Helens Borough Council's response to Covid; the Cheshire and Merseyside Mental Health Resilience Hub; the latest Cyber Bulletin, and much more.

Finally, don't forget to keep us up to date with what's going on in your Places, and send us any articles you'd like us to include.



Best wishes,

Jackie Bene
Chief Officer
Cheshire and Merseyside Health and Care Partnership
In this edition...
News and Features
| | |
| --- | --- |
| Clinicians and patients across the North West Coast are set to benefit from the connection of two digital care record platforms | |
Clinicians across the North West Coast, which covers the counties of Cheshire, Merseyside, Lancashire and Cumbria, will soon benefit from being able to access information about patients outside of their immediate service area, for the purpose of direct care. As our regional Shared Care Record Programme is soon to include the Cheshire Care Record (CCR), which is a summary care record that enables care providers to get a quick holistic view of the care a patient has received from health and social care services across Cheshire.

Read more.
| | |
| --- | --- |
| | NHS sets out Covid-19 recovery plan for patient care and staff wellbeing |
The NHS is accelerating the delivery of operations and other non-urgent services as part of a £8.1 billion plan to help the health service recover all patient services following the intense winter wave of COVID.

The money, which is set out in the NHS Operational Planning Guidance, will also fund more support for staff who may be impacted by their experiences during the coronavirus pandemic.

Read more.
| | |
| --- | --- |
| Latest update from the Partnership Board – 31st March 2021 | |
The latest Partnership Board update highlights key decisions and actions outlined in the Board meeting on Wednesday 31st March 2021.

The substantive business discussed included progress on the Partnership's Memorandum of Understanding, updates from the 'Getting Under the Skin' Research Programme and Race Inequality Action Plan, plans to publish the Partnership's 2021 - 2025 strategy, the transformation programmes evaluation and finally an update on Marmot.

Read more.
Place and Programme Updates
St Helens

St Helens Cares highly commended at the HSJ awards

St Helens Cares was highly commended for the Health and Local Government Partnership Award at the 2020/21 HSJ Awards, recognising their outstanding contribution to integrated health and social care.

St Helens Cares was shortlisted, despite the tough competition from more than 1,000 entries, and was selected based on their ambition, visionary spirit and the demonstrable positive impact that the work has had on patient and staff experiences within the health and social care sector.

Read more.
Knowsley

Residents in Knowsley benefiting from community mental health programme

Hundreds of people in Knowsley have been helped by the mental health community programme, Reach Out to Face Forward, in the last three years – and residents have continued to have access to activities and support throughout the pandemic.

Knowsley's programme, funded by National Lottery Reaching Communities, focusses on self-management to deal with challenges faced due to mental health.

Read more.
St Helens

National recognition for St Helens Borough Council

St Helens Borough Council has received national recognition for its response to dealing with COVID-19 after bagging a hat-trick of accolades at the INetwork Awards. The Council beat off some tough competition from public sector organisations from across the country.

Read more.
Population Health

New GP Out of Hours provider for Merseyside

Primary Care 24 is now the GP Out of Hours Provider for Merseyside. This includes Liverpool, Halton, Knowsley, a number of practices in St Helens and new areas for the organisation in South Sefton, Southport and Formby and Warrington.

Read more.
COVID-19 Testing programme

Update from COVID-19 Testing Programme for Cheshire and Merseyside – 9th April

Everyone in England will be able to access free, regular, rapid coronavirus testing from today, April 9. The step comes ahead of a further reduction in restrictions which will see more elements of business and society reopening on April 12. Anyone will be able to access free, rapid lateral flow tests (LFDs) for themselves and their families to use twice a week, in line with clinical guidance.

Read more.
COVID-19 Vaccination programme

Update from COVID-19 Vaccination Programme for Cheshire and Merseyside - 9th April

As of April 8, more than 1,577 million vaccines had been delivered across Cheshire and Merseyside. This means that approximately 96% of over 70-year-olds, 88% of health and social care staff, 92% of 65–69-year-olds and 87% of 50-59-year-olds have already received their first dose.

Read more.
Partnership COVID-19 response

Partnership Coordination Group update – 1st April 2021

The Partnership Coordination Group (PCG) meets fortnightly to support the coordination of activity and communication of Cheshire and Merseyside's health and care response to COVID-19, as well as other elements of partnership working.  

This briefing provides an overview of the discussions from the meeting held on Thursday 1st April 2021.

Read more.
In case you missed it...
Government announces £500m pandemic mental health plan

The Government will pour £500 million into a plan to expand mental health services in response to the impact of the pandemic on the public. The Mental Health Recovery Action Plan, will specifically target groups worst hit by the Covid crisis, including those with severe mental illness, young people and frontline medical staff, the Department of Health and Social Care said.

Read more.
New reports provide insights into the impact of the COVID-19 pandemic on urgent and emergency care services

The Care Quality Commission have recently published two new reports, which provide insights into the impact of the COVID-19 pandemic on urgent and emergency care services both in NHS Trusts and across eight areas of England in October 2020, one of which being the Cheshire and Merseyside Health and Care Partnership.

Read more.
Bridgewater Community Healthcare NHS Foundation Trust celebrates ten years

The Bridgewater Community Healthcare NHS Foundation Trust has celebrated its tenth year. Established on the April 1, 2011, the organisation is a leading provider of NHS community health services to the people of Oldham, Warrington, Halton and St Helens. It also provides community dental services across key areas throughout Greater Manchester and Cheshire.

Read more.
Cheshire and Merseyside Cyber Security Bulletin

The 35th Edition of the Cheshire and Merseyside Cyber Security Bulletin features information about CYBERUK 2021, which will be delivered this year as an open access virtual event on 11-12 May through YouTube, and information about the work of the National Crime Agency in tackling cyber crime.

Read more.
Media Roundup: 25th March – 9th April

A summary of the latest key headlines from across the Cheshire and Merseyside footprint, including a snapshot of the most prominent discussions held around health, social care and local authority services in the patch.

Read more.
We want to hear from you!
If you have a story you would like to feature in the next edition of Connect, please email cm.partnership@nhs.net.
Visit cheshireandmerseysidepartnership.co.uk for more information.
Copyright © Cheshire & Merseyside Health & Care Partnership, All rights reserved
Our mailling address is:
Cheshire & Merseyside Health & Care Partnership
Regatta Place | Brunswick Business Park | Summers Lane | Liverpool | L3 4BL