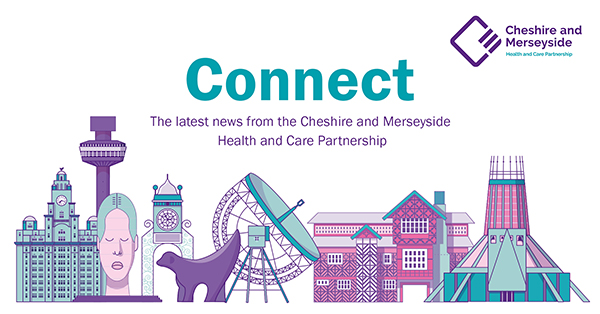 Issue 37, 21st May 2021

Dear Reader,

Welcome to this latest edition of Connect!

As ever, we have lots for you to read, but we still want you to send us your stories, achievements and news, so we can share them with stakeholders from right across our Cheshire and Merseyside footprint.

I have today written to all our GPs in Cheshire and Merseyside (you can see a copy of the letter here) thanking them for their ongoing work throughout the pandemic, as well as their immense contribution to the vaccine programme. I want to reiterate that thanks here. There is a misperception that GPs are not, or haven't been, open for business – they very much have and are. This is leading in some parts to undue criticism which is not fair. GPs and their staff, like all members of staff, are entitled to be treated with respect and kindness. I'd really appreciate it if anyone reading this can share that message far and wide.

As we continue to ease restrictions, significantly progress with vaccinations and generally open up, we are seeing a huge rise in attendances at our A&E departments. Across Cheshire and Merseyside it is important that we all share the same messages and encourage our residents to choose the right service, so that emergency department staff are not diverted looking after people who should and could, have been more effectively treated elsewhere. Self-care, pharmacies, GPs, 111, walk in centres or Urgent Treatment Centres are often much more appropriate for many people who go to A&E. Again, we'd appreciate your help in sharing and amplifying those messages.

Also in this edition is something of a focus on mental health services, following a successful 'Mental Health Awareness Week' last week.


Enjoy!

Jackie Bene
Chief Officer
Cheshire and Merseyside Health and Care Partnership
In this edition...
News and Features
| | |
| --- | --- |
| Webinar addresses engagement with marginalised and vulnerable communities during the COVID-19 vaccination roll out | |
NHS England & Improvement Regional Communications Team recently invited colleagues to showcase the work of partners across the sub-region of Cheshire, Halton and Warrington to increase vaccine confidence amongst underserved and marginalised communities. The presentation and discussion demonstrated that communities who are often described as 'hard to reach' really aren't, with a careful balance of communications and outreach work and by creating a network of networks driven by partnership working and local trusted voices.

Watch the webinar here.
| | |
| --- | --- |
| | Cheshire and Merseyside Health and Care Partnership People Summit |
The programme for the Partnership's first virtual People Summit is now live and open for bookings.

Running over three days (16th to 18th June 2021), the summit offers offers over thirty sessions across three days, hosted by a wide range of organisations and networks across the Cheshire and Merseyside health and care system.

Sessions are open to anyone working in the health and care sector, or those working in a related area. If you have an interest in the people agenda and want to understand how organisations and networks across the Cheshire and Merseyside system are working innovatively to address workforce challenges and fulfil the aims of the People Plan, please join us.

View the full programme and access booking links here.
| | |
| --- | --- |
| Latest Kind to Your Mind explores the links between anxiety and sleep | |
In the latest Kind to Your Mind episode on mental health, Ian Brannan discusses anxiety and sleep with Dr Paul Campbell, a Consultant Clinical Psychologist who works across several mental health services and organisations in the North West of England. Hear how to spot the signs of anxiety, how to get a great night's sleep and tips around calming anxiety.

Read more.
| | |
| --- | --- |
| | New maternal mental health service set to launch across Cheshire and Merseyside |
Women and their partners across Cheshire and Merseyside who have experienced perinatal loss, trauma and distress as a result of their maternity or neonatal journey are set to benefit from a community-led Maternal Mental Health Service.

The proposed model has been informed and shaped by families who are experts by experience. Based on current research and best practice, this is set to benefit women who experience mental health problems during pregnancy, or in the first two years after birth.

Read more.
| | |
| --- | --- |
| North West strategic health and care partners champion new research pathways for those working in health and social care | |
A Regional roadmap has been launched to recognise the value of nurses, midwives and allied health professionals as critical to effective health and social care research. The North West England Nursing, Midwifery & Allied Health Professionals (NMAHP) Research Capacity & Capability Strategy launched on Monday (17th May).

The strategy shows how health and social care organisations can support their practitioners to grow their skills in the area of research and contribute directly to enhancing care offered to patients and service users.

Read more.
Place and Programme Updates
Cheshire

Staff Wellbeing Action Plan launched as part of Mental Health Awareness Week

NHS Cheshire Clinical Commissioning Group has launched a staff Wellbeing Action Plan as part of its support for Mental Health Awareness Week 2021. Central to this is the introduction of regular wellbeing conversations with a trusted colleague for all members of staff - a key element of the NHS People Plan.

Read more.
Cheshire

New microsite for Cheshire CCG

Cheshire CCG has developed a mobile and tablet-friendly microsite to tell and update the story of their involvement of people and communities in 2020/21.

The microsite sets out ways that the CCG has adapted to deliver engagement activity in new ways and in collaboration with system partners as well as how the resident voice has been embedded in the commissioning cycle. It also highlights how the CCG meets its duty to identify and engage with deprived communities, ethnic communities, inclusion health populations and people with disabilities.

Read more.
Primary Care

NHS 111 pilot strengthens specialist care for children

A partnership between North West Ambulance Service (NWAS) and Cheshire and Merseyside Children and Young People (CYP) Network, which sees specialist paediatric practitioners working alongside trained NHS 111 advisors, has helped to enhance care for children and their families when using NHS 111.

Read more.
Mental Health

New mental health platform launched for young people in Merseyside

A new online resource has been launched to help children, young people, parents and professionals to make referrals into partnership mental health services in Liverpool and Sefton.

The new platform, available on the Liverpool CAMHS and Sefton CAMHS websites, allows just one referral form linking a wide range of mental health services across Liverpool and Sefton, who work in partnership together.

Read more.
COVID-19 Testing programme

Update from COVID-19 Testing Programme for Cheshire and Merseyside – 21st May

As Covid restrictions eased on Monday, May 17, health and care professionals across Cheshire and Merseyside were monitoring the progress of the variant first detected in India.

Sefton was the first borough in Cheshire and Merseyside to identify cases of the Indian variant (B.1.617.2) with an outbreak in Formby. The Local Authority took immediate steps to introduce surge testing in the town with help from the Health and Care Partnership Covid-Response team.

Read more.

COVID-19 Vaccination programme

Update from COVID-19 Vaccination Programme for Cheshire and Merseyside - 21st May

As of May 18, approximately 2.407 million vaccines doses had been delivered across Cheshire and Merseyside. That means that more than 67% of the adult population of Cheshire and Merseyside have had their first and/or second dose of the vaccine. This update provides information on the latest eligible cohorts and second dose responses.

Read more.
In case you missed it...
A&E departments signpost alternative services available to parents and carers

Cheshire and Merseyside Accident and Emergency departments are in high demand, but we know that a large number of people who attend A&E, don't actually need that level of care and would have been better served in another setting. It's really important that people know what the alternatives are – self-care, pharmacy, 111, GP, walk in centre or urgent treatment centre. We realise it is particularly difficult for parents/carers who have sick children and believe that A&E should be their first port of call. Liverpool CCG have recently published guidance on other services that are available to those seeking urgent care. It is important that we all take responsibility to use the services available to us wisely.

Read more.
High Sheriff of Cheshire pays tribute to all involved in county's COVID-19 Vaccination Programme

Dr Andrew Wilson and Clare Watson – Chair and Accountable Officer of NHS Cheshire Clinical Commissioning Group (CCG) – accepted a High Sheriff's Award from Robert Mee DL on behalf of everyone involved in the local COVID-19 Vaccination Programme.

Read more.
Latest Warrington and Halton Teaching Hospitals Stakeholder Brief

The latest brief from Warrington and Halton Teaching Hospitals NHS Trust provides an update on the COVID-19 position at the Trusts hospitals and details of public engagement and consultation exercises that are being carried out in relation to service developments in Halton and within the Trusts Breast services.

Read more.
Cheshire and Merseyside Cyber Security Bulletin

The 38th edition of the Cheshire and Merseyside Cyber Security Group bulletin features news on the colonial hack, resources from CYBERUK 21 and information on upcoming webinars.

Read more.
Cheshire and Merseyside Radiology Imaging Network newsletter

The latest Cheshire and Merseyside Radiology Imagining Network (CAMRIN) newsletter includes network updates, workforce development opportunities, programme updates and much more.

Read more.
Latest NHS Integrated Care bulletin

The NHS Integrated Care bulletin provides the latest news and events on integrating health and care across the country, including examples of best practice from NHS, local government and voluntary sector partnerships.

Read more.
Media Roundup: 8th May - 19th May

A summary of the latest key headlines from across the Cheshire and Merseyside footprint, including a snapshot of the most prominent discussions held around health, social care and local authority services in the patch.

Read more.
We want to hear from you!
If you have a story you would like to feature in the next edition of Connect, please email cm.partnership@nhs.net.
Visit cheshireandmerseysidepartnership.co.uk for more information.
Copyright © Cheshire & Merseyside Health & Care Partnership, All rights reserved
Our mailling address is:
Cheshire & Merseyside Health & Care Partnership
Regatta Place | Brunswick Business Park | Summers Lane | Liverpool | L3 4BL