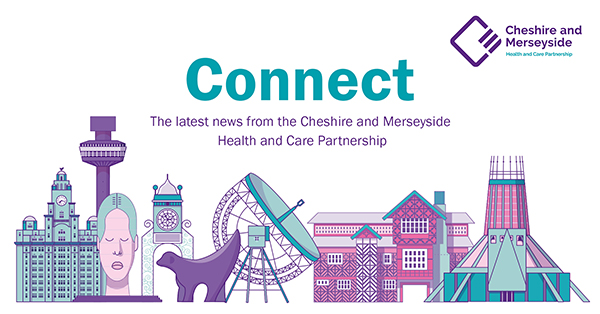 Issue 33, 25th March 2021

Dear Reader,

Welcome to this edition of Connect, the Health and Care Partnership's stakeholder newsletter.

The main piece of news this week is the very welcome confirmation that the Cheshire and Merseyside Health and Care Partnership has now been formally designated as an ICS and, as we continue to implement our development plan, will be a statutory organisation from April 2022. This is brilliant news and something we have been working towards for a long time. It gives us the clarity we need to enable us to focus on the smooth transition of CCG functions (and their brilliant staff) into the work of the Partnership as well as continuing to develop truly integrated health and care services for our population. I'd really like to thank everybody throughout the Partnership, and our members and supporters, who have made this possible. I'm delighted that Steve Broomhead, Chief Executive of Warrington Borough Council has shared his reflections on this – you can read this below.

I also wanted to recognise that is now exactly 12 months since the country went into the first lockdown, as we began to understand the potential impact and the required response to the Covid pandemic. My heart goes out to the families and friends of people who lost their lives to this disease, and also to the staff on the frontline who have borne the brunt of its effects. But I also want to pay tribute to those same staff – indeed everyone working in health, social care, voluntary sector, education, public protection and others – and thank them for their compassion, expertise and especially their resilience. There is some good news of course, and the vaccination programme is something we can all be very proud of. I was amazed to learn that over the weekend, the numbers of vaccinations given in Cheshire and Merseyside were of record-breaking proportions. Well done, and thank you to everyone concerned.

Also in this addition in Connect there is news of the Partnership being shortlisted for a 2021 HSJ value award as well as the usual updates on the Cheshire and Merseyside Covid vaccination/testing programmes and the latest Partnership Coordination Group meeting overview. Don't forget, we welcome submissions from all of our partner organisations across Cheshire and Merseyside. If you would like to include any stories or information in future editions of Connect, please contact the Partnership's Communications and Engagement Team.



Best wishes,

Jackie Bene
Chief Officer
Cheshire and Merseyside Health and Care Partnership
In this edition...
News and Features
| | |
| --- | --- |
| Cheshire and Merseyside to become an Integrated Care System | |
Patients will have better, more joined up care as Integrated Care Systems, which require all parts of the NHS to work with each other and their partners, are rolled out across the country from next month.

NHS Chief Executive Sir Simon Stevens has confirmed that the final 13 areas (which include Cheshire and Merseyside) serving 14.9 million people, will be formally designated "integrated care systems" (ICSs) from April 1, hitting a major milestone in the NHS Long Term Plan.

Read more.
| | |
| --- | --- |
| | Warrington Borough Council Chief Executive reflects on Cheshire and Merseyside's Integrated Care System designation |
In this reflection piece Warrington Borough Council Chief Executive, Steven Broomhead OBE, discusses the welcomed Partnership Integrated Care System (ICS) status. Steven also explores emerging strategies and challenges that may arise in the near future and highlights the importance of reducing health inequalities, transferring the functionalities of Clinical Commissioning Groups and much more.

Read more.
| | |
| --- | --- |
| Partnership shortlisted for HSJ Value Award | |
The Partnership has been shortlisted for a 2021 HSJ Value Award. The HSJ recently revealed its list of finalists with the Partnership being recognised for its work with community-based blood pressure testing under the 'Public and Preventative Health Service Redesign Initiative' category.

The community-based blood pressure testing programme launched in August 2018 and is funded by the British Heart Foundation and carried out by the Champs Public Health Collaborative.

As part of the programme, the Fire and Rescue service has been trained to take blood pressure readings via 'Safe and Well' home visits, which include people at risk from falls, increasing bowel cancer screening rates, smoking cessation and alcohol reduction. The programme has also seen interconnected devices (health kiosks) for use within the prevention hub, primary care clusters and community venues.

The awards ceremony will take place in June 2021 in Manchester. Find out more about the awards and all other nominees here.
Place and Programme Updates
Knowsley

Rainbow garden launched at Whiston Hospital on national day of reflection

"Rainbow flowerbeds" will form part of a special memorial garden for people to remember their loved ones at Whiston Hospital.

The Rainbow Garden, funded by NHS Charities Together and thanks to the extraordinary efforts and generosity of Captain Sir Tom Moore, will provide a place for contemplation and reflection for staff, patients and their families.

Read more.
Cheshire

Innovative app provides parents with confidence to decide between medical treatment or self-care for their children

Following the launch of a free app across Cheshire, twenty per cent fewer parents with young children went to A&E for basic advice. The innovative 'CATCH' app was developed by local councils and Clinical Commissioning Groups across Cheshire and gives parents the confidence to know when medical treatment is required or when self-care would be a better option.

In a survey of app users, 47 per cent said they had chosen self-care instead of attending A&E since downloading the app, while 35 per cent said it had helped them feel more confident in self-caring for their child and in knowing where to find the best treatment.

Read more.
Liverpool

Successful pilot sees refugee nurses supported into NHS Liverpool workforce

Refugees who were qualified as nurses in their home countries are being supported into work in the NHS as part of a pilot programme in Liverpool.

Backed by chief nursing officer for England Ruth May, the North West Refugee Support Pilot scheme is a first-of-its-kind collaboration between Liverpool John Moores University, the charity RefuAid and Merseyside NHS trusts.

Read more.
Cheshire

Cheshire CCG signs Cheshire Anti-Bullying Charter

NHS Cheshire Clinical Commissioning Group has outlined its commitment to tackling bullying by signing Cheshire's first county-wide Anti-Bullying Charter. The Cheshire Anti-Bullying Charter is being rolled-out to schools, workplaces and community organisations across the county in a bid to eradicate bullying.

Read more.
Mental Wellbeing

Call for local people with lived experience of self-harm or suicide to contribute to Lived Experience Network in Cheshire & Merseyside

A new initiative has launched in Cheshire & Merseyside which aims to give local people with lived experience of self-harm and/or suicide the opportunity to share their views and contribute to ongoing suicide prevention work in the region.

The Cheshire and Merseyside Lived Experience Network will bring together a group of people from across the sub-region with a range of experiences to co-develop and co-deliver on the aims of the NO MORE Suicide Strategy.

Read more.
COVID-19 Vaccination programme

Update from COVID-19 Vaccination Programme for Cheshire and Merseyside – 25th March

Following a record-breaking weekend for the national vaccination programme, which saw 27 people per second being jabbed on Saturday, - around 1.3 million people have now been vaccinated in Cheshire and Merseyside. As of March 22, more than 1,279 million vaccines had also been delivered across the sub-region.

Read more.


COVID-19 Testing programme

Update from COVID-19 Testing Programme for Cheshire and Merseyside – 25th March

"Home Collect" testing has now opened-up for everyone in the country to access. This means that anyone can now collect a home test. Previously the programme had been limited to certain cohorts, including parents, carers and people working during lockdown. Local Authorities are discussing the influence of this on their community testing plans which cover April – June 2021.

Read more.


Partnership COVID-19 response

Partnership Coordination Group update – 18th March 2021

The Partnership Coordination Group (PCG) meets fortnightly to support the coordination of activity and communication of Cheshire and Merseyside's health and care response to COVID-19, as well as other elements of partnership working.  

This briefing provides an overview of the discussions from the meeting held on Thursday 18th March.

Read more.
In case you missed it...
New support centre for patients with neurological disorders and mental health conditions opens in Speke

A new dual registered hospital and nursing service has recently opened its doors in Speke, Liverpool. Estuary House provides care and support for people with neurological disorders, complex dementia, acquired brain injury and mental health conditions. NHS patients can access the service through their local GP or mental health teams.

Read more.
Public Health England Launches free psychological first aid training

Public Health England has launched a free Psychological First Aid training course. The online course teaches attendees how to provide practical and emotional support to children and young people affected by COVID-19 and related issues such as lockdown, bereavement or isolation.

Read more.
Liverpool City Region Combined Authority appoint new Chief Executive

The Liverpool City Region Combined Authority has announced the appointment of Katherine Fairclough as their new Chief Executive. Katherine will join the combined authority from Cumbria County Council, where she has been Chief Executive since 2017 and is expected to take up her post in early summer.

Read more.
Partnership publishes 'Getting under the skin' webinar resources

The Partnership has published a range of resources from its "Getting under the skin" show and tell webinar held on 3rd March 2021, including: a recording of the session, ten key findings, full detailed analysis of the Phase 2 (quantitative research) element of the project and a document providing refreshed ethnicity profiles for Cheshire and Merseyside.

Read more.
Latest NHS Integrated Care Bulletin

The latest NHS England and NHS Improvement Integrated Care Bulletin features a report on how leadership roles might evolve in integrated health and care systems, a blog about cardiovascular disease and event and webinar updates.

Read more.
Latest CAMRIN newsletter

The latest edition of the CAMRIN newsletter features the usual updates on staff changes and appointments across the Radiology Imaging Network, as well as highlights from the Network itself and the different programmes within it. You'll also find information about an opportunity that's still available for a Clinical Lead role, and updates on the Cheshire and Merseyside Radiology Reporting Collaborative.

Read more.
Media Roundup: 12th March - 25th March

A summary of the latest key headlines from across the Cheshire and Merseyside footprint, including a snapshot of the most prominent discussions held around health, social care and local authority services in the patch.

Read more.
We want to hear from you!
If you have a story you would like to feature in the next edition of Connect, please email cm.partnership@nhs.net.
Visit cheshireandmerseysidepartnership.co.uk for more information.
Copyright © Cheshire & Merseyside Health & Care Partnership, All rights reserved
Our mailling address is:
Cheshire & Merseyside Health & Care Partnership
Regatta Place | Brunswick Business Park | Summers Lane | Liverpool | L3 4BL