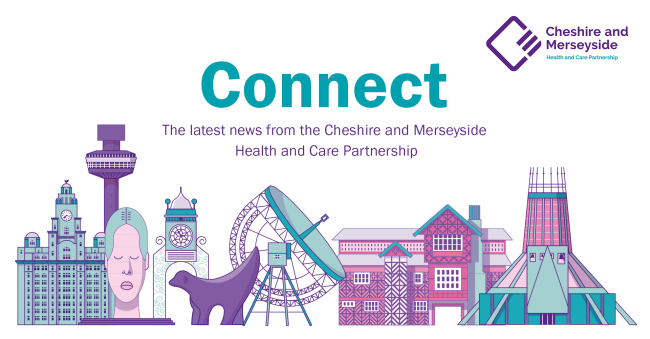 Issue 26, 11th December 2020

Dear Reader,

Welcome to the latest edition of Connect, the Cheshire and Merseyside Health and Care Partnership's new-look stakeholder newsletter.  
 
It's good to be back writing this introduction as Jackie has a more detailed feature within Connect this time. It's just over a year since I started and I think the Partnership and Connect has made great strides in that time. Thank you to all my colleagues within the Partnership staff and the partners who have made it so. 
 
Early this year you may recall I asked for a systematic piece of feedback from partners and stakeholders about how the Partnership was perceived. Three things were evident from that research: The Partnership was not clear enough about its purpose, its organisational arrangements and its communications.  
 
At our first Partnership Assembly in September, we made it clear that the Partnership is fundamentally committed to improving the health of the people of Cheshire and Merseyside and tackling health inequalities. We do this through joint working between partners where the approaches are best done at scale. We are sure most joint working is best done at Place or with a smaller population. We are committed to adding value and not duplicating the great work done in Places and organisations within Cheshire and Merseyside. At the Partnership Board a few weeks ago, we considered at length how the programmes of work of the Partnership needed to be aligned more with that purpose. 
 
At the same Partnership Board, we agreed a draft Memorandum of Understanding which we will discuss with Partners and stakeholders over the next two months with a view to committing to in February. This outlines in some detail the workings of the Partnership and we are keen to involve our stakeholders and partners in this work as much as possible, so I would welcome any and all comments or thoughts you may have. If you have not had a copy of the latest draft sent directly to you, you can download it here.  
 
The final element of response to the research has been to improve communications during the course of the year and I think you can see that in the presentation and content of Connect. This month we are introducing a refreshed image of the Partnership and a greatly improved website, which you can learn more about below. I would encourage you to take the time to explore the new website, which I trust you will agree provides an extensive overview of the Partnership's work and our vision for the future. Edna Boampong, our Interim Director of Communications and Engagement and her team have worked tirelessly on these improvements and I hope you will agree they reflect the professionalism the research said was needed. This month, our new Executive Director of Communications, Christine Hughes takes up post and she receives a great inheritance from Edna. 
 
Whilst all of this work has been happening, we have also worked together as a system to provide a response to the largest public health crises seen in the last 50 years. What has really stood out to me over the last nine months is how much we can achieve when we work in partnership. This has been a tough year for all of us, but your efforts have been invaluable, in not only keeping our population safe, but in demonstrating what true collaborative working looks like and the innumerable benefits this can bring.  
 
Please do take the time to read the updates contained within this edition of Connect, if you would like to see your work featured in future editions, please contact the Partnership's communications team, who will be happy to help.  
 
Best wishes,

Alan Yates  
Chair  
Cheshire and Merseyside Health and Care Partnership
In this edition...
News and Features
| | |
| --- | --- |
| | Chief Officer, Dr Jackie Bene reflects on eight months at the Partnership  |
In this feature, Dr Jackie Bene, looks back on an "extraordinary" first eight months as Chief Officer at the Partnership, a role she took up in the height of the COVID-19 pandemic in the April this year.  
 
Jackie discusses how she guided the Partnership through the pandemic with the help of partners across the health and care system, the power of collaborative working and her hopes for positive change as the Partnership refocuses some of its programmes in 2021.

Read more.

| | |
| --- | --- |
| Partnership launches new look and new website | |
The Partnership's corporate identity has been completely refreshed alongside a new website.  
 
This work, led by the Partnership's communications team, follows on from stakeholder insight at the beginning of this year that recommended that the Partnership's identity and digital channels should be updated. 
 
The new website is the best place to learn more about the Partnership, the current programmes of work, the work happening in local boroughs and much more.  
 
Check it out. 
| | |
| --- | --- |
| | The Partnership is inviting people from Black, Asian and Minority Ethnic (BAME) communities to participant in important research |
Please complete, download and share the survey details and support us in the fight against COVID-19. 

This insight research will provide an invaluable look into the experiences and attitudes towards COVID-19 of BAME people the impact the pandemic has had on access to health and care services and attitudes to the COVID vaccination.  
 
If you are from a black, Asian or minority ethnic group please complete the survey, alternatively please share the survey link and materials across your networks to reach as many people from Cheshire and Merseyside as possible.

Read more.
| | |
| --- | --- |
| Latest episode of the Kind to Your Mind podcast features Mersey Care's Mindfulness service | |
The latest episode of the Kind to Your mind podcast focuses on how combating stress, anxiety and depression is vital in order to maintain a healthy mind and body. Series 2, Episode 3, features guest speaker Paula Edwards - a mindfulness teacher and Assistant Practitioner at the Mindfulness Hub within the Psychology Dept at Mersey Care NHS Foundation Trust.   
 
During the episode Paula talks about her career in health care as a Nursing Assistant in High Security and her experiences as a Peer Tutor at the Recovery College, Mersey Care NHS Trust. The episode also features a mini mindfulness session. 
 
Listen now. 
Place and Programme Updates
COVID-19 Vaccination Programme

COVID-19 vaccinations start in Cheshire and Merseyside

The Medicines and Healthcare products Regulatory Agency (MHRA) approved the use of the BioNTech and Pfizer vaccine on Wednesday 2nd December, meaning the UK is the first country to clinically approve a Covid-19 vaccine for use.

This week, saw the start of the first vaccinations across Cheshire and Merseyside. The Government's Joint Committee on Vaccination and Immunisation (JCVI) has confirmed the first priority for use should be the prevention of Covid-19 mortality and the protection of health and social care staff and systems. This means that residents in a care home for older adults and their carers will be the top priority, followed by all those 80 years of age and over and frontline health and social care workers.

In Cheshire and Merseyside trained staff at three Hospital Hubs have been administering the vaccines; Aintree; The Countess of Chester; and Clatterbridge Hospitals.

Read more.
Cheshire

NHS Cheshire Clinical Commissioning Group commended by local MP and Prime Minister

NHS Cheshire Clinical Commissioning Group (CCG) has received praise from both Eddisbury MP, Edward Timpson and Prime Minister, Boris Johnson during the Oral Questions in the House of Commons on 23rd November 2020. 
 
Edward Timpson MP commended Cheshire CCG on "maintaining a high standard of care for patients alongside their Covid workload". This comment was reiterated by the Prime Minister who added a personal thanks to Cheshire CCG's Dr Andrew Wilson and Dr Alistair Adey from the Tarporley health centre, for the work they have done during the pandemic. 

Listen here.
Warrington

Mental Health and Wellbeing Facility opens for staff

A dedicated mental health and wellbeing facility has been opened at Warrington and Halton Teaching Hospitals NHS Trust. 'The Sanctuary Hub' was designed to provide an environment conducive to staff wellbeing and recovery. The £35K Hub was funded by NHS Charities Together and the League of Friends of Warrington Hospital in response to the COVID-19 pandemic.

Read more.
Partnership Coordination Group (PCG)

Partnership Coordination Group update – 3rd December

The Partnership Coordination Group (PCG) meets fortnightly to support the coordination of activity and communication of Cheshire and Merseyside's health and care response to Coronavirus, as well as other elements of partnership working.   
   
This briefing provides an overview of the discussions from the meeting held on Thursday 3rd December.  
 
Read more.
Cardiovascular Disease (CVD)

Primary Care Cardiovascular Society publish guidance for primary care teams during the COVID-19 pandemic

A new practical guide has been produced by the Primary Care Cardiovascular Society to help primary care teams across England overcome limitations created by COVID-19 and continue to deliver quality cardiovascular disease (CVD) prevention services. 
 
The new guidance – produced in a collaboration between the Oxford Academic Health Science Network (Oxford AHSN) and the Getting It Right First Time (GIRFT) programme – is co-authored with the Primary Care Cardiovascular Society (PCCS) and aims to signpost primary care professionals to the right resources to address these and related issues. It has been put together by a wide-ranging team of national experts and includes experience from the NHS primary care frontline. 
 
Read more.
Digital

Remote technology helps reduce COVID-19 pressure on Merseyside

Mersey Care NHS Foundation Trust has launched a new remote patient technology that is helping reduce pressure on hospital beds across Merseyside. The 'COVID Oximetry@Home' service went live in April and offers COVID-19 patients the opportunity to be monitored and cared for in their own homes. The programme is expected to monitor up to 500 Liverpool patients a day, either through an app on a smart phone or tablet, or via Care portals.

Read more. 
Cancer

Frank says thank you to NHS staff for outstanding cancer care

Pancreatic cancer survivor, Frank Heaton has expressed his thanks to NHS staff across Merseyside Trusts following a shock diagnosis. In this short video, Frank explains the reasons why he first picked up the phone to his local Doctor and the processes he went through from blood tests and MRI scans to chemotherapy and surgery, all during the first wave of COVID-19.

Read more.
In case you missed it...
"Pancreatic cancer hasn't stopped because of Covid-19"

Dianne Dobson, Specialist Nurse at Pancreatic Cancer UK, has wrote a letter to raise awareness of pancreatic cancer and the importance of speaking to GP's. The letter touches on how pancreatic cancer can be treated during the COVID-19 pandemic and urges readers to find out more about the disease if they are worried that they have any symptoms.

Read more.
Cheshire and Merseyside Cyber Bulletin

The 27th edition of the Cheshire and Merseyside Cyber Security Group includes updates on the Cyber Security Capital Funding Allocation, the NHS Digital call for volunteers, the Adobe Flash Player EOL 31, and more.

Read more.
Media Roundup: 26th November – 9th December

A summary of the latest key headlines from across the Cheshire and Merseyside footprint, including a snapshot of the most prominent discussions held on social media around health, social care and local authority services in the patch.

Read more.
Case study: The Lightbulb Project - Switched on to integration in Leicestershire

A case study by Housing LIN discusses the 'invest to save' project which brings together County and District Councils and other local partners in Leicestershire to help people stay safe and keep well in their homes for as long as possible. 
 
The initiative includes GPs and other health/care professionals; for example, those in integrated locality teams, and relies on early at home assessment process that triages housing issues at key points of entry. 

Read more.
Visit cheshireandmerseysidepartnership.co.uk for more information.
Copyright © Cheshire & Merseyside Health & Care Partnership, All rights reserved
Our mailling address is:
Cheshire & Merseyside Health & Care Partnership
Regatta Place | Brunswick Business Park | Summers Lane | Liverpool | L3 4BL