Welcome to the new programme newsletter
Welcome to our new Humber Acute Services programme newsletter. In it you'll find the latest news from the programme and information about how you can get involved, share your ideas or ask questions.

We hope you will find it helpful and informative.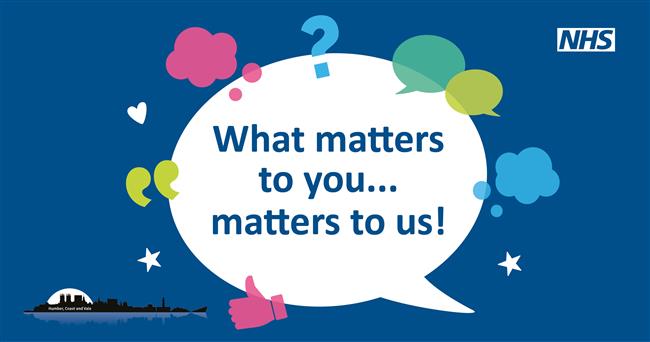 What Matters to You... Matters to Us
Earlier this year we undertook an engagement exercise to find out what matters most to patients, staff, members of the public and local representatives when thinking about care in hospital. Nearly 4000 people took part. We asked about what matters most because we want to pay particular attention to the things people have told us are most important when we look at how we might provide services differently in the future.

The results are now in and you can read them on our website. Click here for the summary version or here for the full report.

You Said:

being "seen and treated as quickly as possible" is most important
compassionate and caring staff meant people were happy with their care
poor communication and issues with car parking made patients' experience difficult and stressful
We Will:

pay particular attention to tackling long waiting lists and designing services for the future that can see patients quickly and efficiently
involve staff in the design of future services and think about how we can use our workforce better
seek to join up services across different parts of health and care and improve communication
think about all aspects of accessibility not just distances from A to B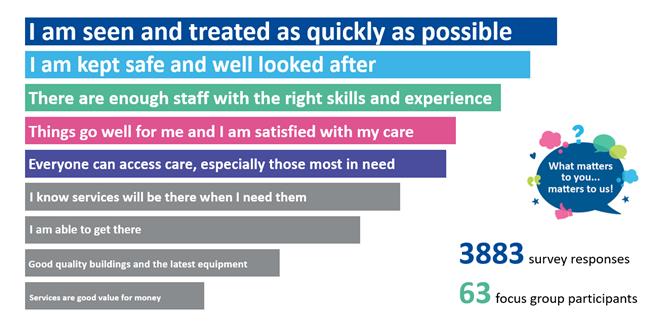 Whilst we received nearly 4000 responses to our survey, the number of responses from some groups and communities was relatively low. We want to gather more feedback from those we have not yet heard from to help us when we come to make decisions. We want to understand if peoples' priorities change when we know more about what the possible changes might be and what that will mean for them. We also heard staff telling us the survey was not tailored enough to their needs and they would like the opportunity to feedback on what change means to those working in our services.

Next we will:

ask our staff What Matters To You in a bespoke staff survey;
listen to more children and young people to find out what they think;
ask What Matters To You in our other engagement on specific services;
re-open our questionnaire and raise awareness amongst those who have not yet responded
Tell us What Matters to You
We have re-opened our What Matters to You Survey, so it's not too late to have your say.

Please tell us what matters most to you, so that we can plan the future of our health and care services with that in mind.
What is the Humber Acute Services Programme all about?
Our Vision
We are developing proposals for hospital services for the future because we want to provide the best quality care for everyone living in our region.

Having an effective network of hospitals working together across the region, with clinical teams acting as one regardless of which site happens to be their base, will help to ensure everyone across the Humber can access the best quality care and expert treatment and advice.

As a result of the work we are doing through this programme, our ambition is that:

Everyone across the Humber will have access to the best possible healthcare and opportunities to help them live healthy, happy lives
People will only use hospitals if they really need to
More care and treatment people need will be offered in other places – eg. GP surgeries, at home or on the high street
Care will be provided by a flexible, committed and valued workforce
Local people will be able to access state of the art treatments from highly skilled, specialist staff
The use of technology – where appropriate – will be an increasingly important feature in the delivery of care and treatment
Through this programme we want to develop new and better ways of delivering care by listening to the people who use our services now, those who may use them in the future and those who work hard to provide them. By working together we can design a better model for the future.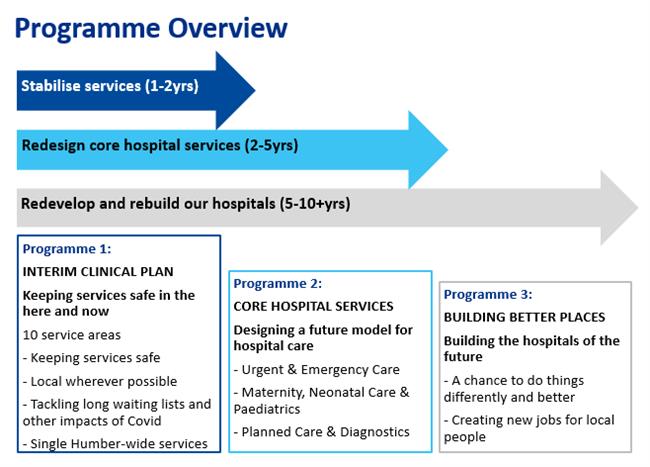 Programme overview
We're working on three programmes now which will lead to changes at different times.

Programme one (Interim Clinical Plan) – is about keeping services safe in the here and now and is looking at stabilising some services over the next one to two years.

Programme two (Core Hospital Services) – is about reviewing core hospital services (Urgent & Emergency Care, Maternity, Neonatal Care & Paediatrics and Planned Care & Diagnostics) to design a future model for hospital care to implement in two to five years.

Programme three (Building Better Places) – is about building better places for patients to access services, using the investment we hope to secure to do things differently and better and create new jobs for local people. This is more longer term and will take five to ten years before it is finished.
Find out more and get involved
You can find out more about the programme and share your ideas in lots of ways
Read more about the programme

there is lots more information available on our website
Ask a Question - get in touch

Respond to a survey

we will be running a variety of surveys over the coming months
you can find out more and take part on our Engagement Hub
Attend an event

workshops and events will take place later in the year details of how to get involved will be available on our

Engagement Hub

Your Birthing Choices
Through the Humber Acute Services Programme, we are looking at how we can provide the best possible maternity and neonatal services across our region.

To help us in designing the future shape of services we want to hear from people who have recently given birth or are pregnant now, their partners, families and friends and anyone else with recent experience of maternity and/or neonatal care.

We want to understand what is important to you when choosing where to give birth so we can develop maternity and neonatal services for the future with you in mind.

You can find out more or complete the survey on our Engagement Hub.

The survey is open until 30th July

In addition to the questionnaire, we are hosting a number of workshops where we would like to talk to specific groups to better understand their experiences of accessing maternity and neonatal care.

If you would like to join in the conversation, please register your place through our Engagement Hub.

Focus on... our population

The Humber region is a large and varied geography covering rural countryside across East Yorkshire and Northern Lincolnshire, as well as more populated urban areas, such as Hull, Grimsby and Scunthorpe.

Over 900,000 people live in the region and this is expected to increase by 1.5% over the next 10 years. The expected population growth for all of England is 5.5%.

The average age is 42yrs which makes the population older than the national average (39.8yrs). However, parts of the region (such as Hull) have a younger than average population.

96.4% of the population are from a white ethnic group. Other ethnic groups in the region are:


Asian/Asian British (1.8%);
Mixed/multiple ethnic groups (0.9%);
Black/African/Caribbean/Black British (0.5%); and,
Other ethnic groups (0.4%).

There are high levels of deprivation, with Hull and North East Lincolnshire both above the national average.

Compared to national averages, there are a number of areas where the population statistics highlight some of the challenges facing the health and care system:


Life expectancy is generally lower than the national averages (83.8yrs for females and 79.8yrs for males). In Hull, life expectancy is 80.1yrs for females and 75.8yrs for males.
A greater proportion of the Humber population have a long-term health problem, including higher levels of diabetes and heart disease.
The Humber population has a less healthy lifestyle, with higher levels of smoking and obesity in Hull, North Lincolnshire and North East Lincolnshire. These areas also have less physically active adults than the national average.

Through the Humber Acute Services programme we want to make a positive difference to the lives and livelihoods of our people across the Humber region, by designing better healthcare services, by ensuring everyone has access to the same quality of care regardless of who they are or where they live and by creating new jobs and career opportunities in health and care, research and innovation, building and construction and much more, through our ambitious plans for Building Better Places.


Getting to know... the HAS team
Interview with… Elaine Peirce, Citizen's Panel Member

Why did you get involved in the Citizen's Panel?

Part of my role, as Chair of the Carers Advisory Group, is to engage with all those organisations delivering healthcare in the East Riding, in both Primary and Secondary care, raising awareness of the impact their current and future planning decisions can have on unpaid Carers.

How have you been involved so far?

I have been involved with the Citizens Panel for about 4 years. I was very pleased to be given the opportunity to join the panel and engage with its members. As always, I have used the discussions we have had to further raise awareness of unpaid carers and have an input into the proposals from a carer's perspective, I am particularly pleased that my voice is being heard.

What is the most exciting thing about the Humber Acute Services programme?

The innovation, looking at delivery of care in a completely different way. We're looking to provide centres of excellence such as cancer care and cardiology which will dramatically enhance the healthcare services available in our local communities.

If you could wave a magic wand what one thing would you change about health and care in the Humber?

To get to a point where every single individual recognises the value unpaid carers have in our society, and that all carers are aware of the help and support that is available to them.

What is the one thing you missed during lockdown?

Face to face meetings. I attend numerous meetings and really miss the personal contact; networking opportunities over a cup of coffee are just not possible in a virtual meeting. I also very much miss visiting our carers and going out to the carers groups to catch up with them over a cup of tea and biscuits.

What was the last TV series you binge watched?

I love the foreign Nordic dramas like The Bridge. They really draw you in, the psychological side of their dramas are much more involved than the English ones.

What's the one thing that can instantly make your day better?

Talking to my grandchildren, they're all quite small and live in Windsor.

Who's your role model?

My late mother-in-law, she was superb, she was a carer for my late father-in-law, who was ill for many years. She taught me a very valuable lesson. Every morning she would get up, bearing in mind she was in her late 70s, make sure her hair was done nicely; apply some make up and put on nice clothes. She would say to me "no matter how rotten you feel when you get up in the morning, no matter how tired you are, because you've been up all night, if you look in the mirror and see that you look physically okay, it will really lift your spirits" and I've lived by that all my life.

Elaine is Chair of the East Riding of Yorkshire Carers Advisory Group and a member of the Humber Acute Services Citizen's Panel.
Interview with… Ivan McConnell and Michelle Kemp

What do you love most about your job and what makes you proud to work in the NHS?

Michelle: I am very proud of the services we deliver and the difference we make to peoples' lives. I always keep that close to my heart and think about the patients we are serving and the staff who deliver the amazing treatment, care and support.

Ivan: The thing I love most about my job is the impact I can have on people's lives, often at the most difficult times and working alongside great people who all want to make a positive difference.


Have you ever worked outside of the NHS – what role did you do?

Michelle: I served in Queen Alexander's Royal Army Nursing Corps for 5 years, where I did my nurse training. I worked in several military hospitals in West Germany and in the UK. I really enjoyed my time in the QAs and I joined the NHS in 1992.

Ivan: I worked in Ireland running the planned care transformation programme across the country's 53 hospitals. More than 100,000 people were breaching national access targets for planned care, but within 12 months we took that down to 5000, through data, training, improved pathways and building system capability.


What is the one thing you missed most during lockdown?

Ivan: For me it was going home.

Michelle: I suppose it was being able to spend time with family, that was really hard. I felt and still feel very fortunate in working for the NHS and being part of the response to the pandemic.


If you could wave a magic wand, what one thing would you change about health and care in the Humber?

Michelle: To magically enlarge all of our service capacity so we could see and treat all the people who are waiting and clear our backlogs. I'm very mindful of the impact on peoples' lives of waiting for treatment so if there was a magic wand, this is what I would do with it.

Ivan: I would improve access for everyone. At the moment, too many of our people find it too difficult to access good care. I'd want more to see more technology and new ways of working so we could get people the right care at the right time in the right place.


What is the most exciting thing about the Humber Acute Services programme?

Ivan: I am excited by the complexity of the programme and the opportunity to make change in this (post)pandemic environment. It brings with it an intellectual challenge – solving problems in new and exciting ways, a people challenge – working with new people and a partnership challenge – working with lots of different organisations across the region. Most of all, it is an opportunity to think "outside the hospital box".

Michelle: The most exciting thing about the programme is the opportunity to really join up our resources and expertise in ways we haven't been able to do before – the strength of working together can make our organisations more attractive when we are recruiting. I'm also really excited about being involved in developing the strategic plans for new buildings and infrastructure for the longer-term future of service delivery.


Ivan is Director of Strategic Development at NLaG and Accountable Director for Humber Acute Services programme and Michelle is Director of Strategy and Planning at HUTH and Exec Lead for the Humber Acute Services programme