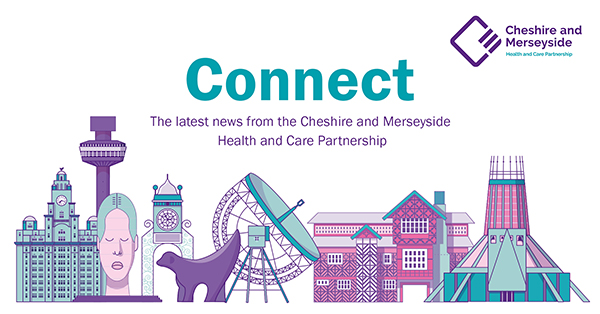 Issue 40, 2nd July 2021

Dear Mark,

Hello and welcome to Connect!

This is a packed issue and I'm sure you'll enjoy it.

Since the last edition, we've received the ICS Design Framework from NHS England. While further guidance is expected, this does give more clarity on some aspects of the White Paper, particularly around the functions of both the integrated health and care partnership, and the ICS NHS Body. We are currently in our transition year with expectation of statutory status by April 2022. The Design Framework reinforces the centrality or primacy of Place and provides an opportunity – and in some cases a responsibility - for all partners to engage in the process towards a fully integrated health and social care system. We have prepared a short summary presentation here and you can also see the ICS Design Framework here.

Next week - 5th July - we celebrate the 73rd Birthday of NHS! It's an opportunity to reflect on the past year and its incredible challenges, and also recognise the great successes too. We're also all being encouraged to say thank you – to NHS staff, volunteers and patients – everyone who makes the NHS what it is! There'll be lots of activities celebrating this across the NHS so do please take part if you have a chance.

Here in the North West, we are also making July 'Primary Care Month' in support of and to celebrate all primary care colleagues in the region who have contributed hugely to the Covid response, as well as continuing to provide essential day to day services that mean so much to people. They are key to the ongoing restoration of services and tackling the increased demand for our services, and the backlog that has built up. So a big personal thank you from me to all of them.

In this issue you can also read about the three millionth does of Covid vaccine, our successful people summit and our campaign to promote vaccine safety to ethnic communities.

Jackie Bene
Chief Officer
Cheshire and Merseyside Health and Care Partnership
In this edition...
News and Features
| | |
| --- | --- |
| | More than three million doses of the Covid-19 vaccine have been delivered across Cheshire and Merseyside |
Liverpool University student, Lauren Allwright, 22, received the three-millionth dose of vaccine against Covid-19 earlier this week, on June 21, at Liverpool Heart and Chest Hospital.

She was presented with a gift from Janine Cryle, a paramedic, who was the 5,000th person to receive a vaccination at the site in the first week of the programme.

In just six months, the three million doses have been provided, with an incredible 74% of adults in Cheshire and Merseyside now having had at least their first dose.

The milestone highlights the incredible efforts of the NHS and partners to roll out the vaccination programme. It also shows the commitment of staff and volunteers in delivering the programme and encouraging the public to get vaccinated.

Read more.
| | |
| --- | --- |
| Partnership's first ever People Summit is a big success with over 1,000 tickets booked! | |
The Cheshire and Merseyside Health and Care Partnership held its first ever virtual People Summit conference from the 16th to 18th June 2021, showcasing the wonderful work of People Professionals across the patch, formatted around the aims of the People Plan.



The People Summit consisted of a broad range of 30 sessions across the three days, and 1,073 tickets were booked by 348 individuals! There was a wide breadth of colleagues from across the system with 78 organisations signing up to Summit sessions, from NHS organisations to Local Authorities, and Voluntary Sector organisations. Attendees shared their thoughts on social media using the hashtag #CMPeopleSummit

Following the Summit, we will also be making available a bitesize series of people and OD related sessions, continuing to provide a platform for sharing and learning from each other. Look out for further information in Connect. If you have people or OD innovations to share and would like to be part of a bitesize series, please contact lucy.rowe2@nhs.net with a brief outline of your session.

Click here to access resources from the event.


| | |
| --- | --- |
| | The NHS will mark its' 73rd 'birthday' on July 5 after a year like no other |
It has been an extremely challenging year for the NHS and the country as a whole, but also a year of hope.

Since the start of the coronavirus pandemic hospitals have cared for around 400,000 seriously ill Covid patients, including more than 100,000 admitted in January alone, along with millions more besides.



So we want to use our 73rd birthday as an opportunity to say a big Thank You to you. Without you and your support, we could never have achieved what we have over the past year.

Read more.
| | |
| --- | --- |
| Cheshire and Merseyside health leaders hail success of campaign to promote vaccine safety to ethnic communities | |
Following a campaign to promote COVID-19 vaccine safety to ethnic communities, Cheshire and Merseyside NHS has reported a positive increase in uptake across Black, Asian and Minority Ethnic communities.

The integrated campaign drew upon insights from an in-depth study, conducted by Cheshire and Merseyside Health Partnership, which examined the attitudes and views of ethnic communities to COVID-19. It teamed up with local representatives from ethnic communities across the region to directly address the key barriers identified and encourage vaccine uptake.

Data uncovered from the COVID Vaccinations Epidemiology app on the Cheshire and Merseyside's CIPHA (Combined Intelligence for Population Health Action) system found a remarkable increase in vaccine uptake during the campaign period.

Read more.
Place and Programme Updates
St Helens

St Helens and Knowsley Teaching Hospitals NHS Trust team up with St Helens RLFC to Tackle Covid Together

St Helens and Knowsley Teaching Hospitals NHS Trust (STHK) Communications Team partnered with Saint Helens Rugby League Club to deliver their 'Let's Tackle Covid Together' campaign ahead of a fixture against local rivals Warrington RLFC.


The campaign sought to increase uptake of the Covid-19 vaccine by men aged 30-40 in St Helens, building on the success of the 'Let's Make St Helens Proud' campaign from October 2020.

Find out about their campaign, here.
Mental Health

Help us design an employee wellbeing resource

The Cheshire and Merseyside Health and Care Partnership (HCP) are creating a digital platform to enhance its health and wellbeing offer to staff. This is a very exciting development and we need your input to help shape the platform.

The new site will give health and care staff access not only to their own organisation's offer but also 'one front door' access to a range of other resources.

The formal launch of the programme is on 21 July and is your opportunity to find out about its aims, give us your valuable insights and suggest content.

Don't miss this opportunity to help shape the development of a ground-breaking digital resource.

Sign up, here.
Pathology Network

Biomedical Science Day

Cheshire and Merseyside Pathology Network is one of the largest and most complex of the 29 pathology networks. Our aim is to provide quality care to the 2.6 million people we serve.

To celebrate Biomedical Science Day, the Pathology Network has produced a special briefing which features Biomedical Scientists and support staff from across the Network, who share what a normal day at work consists of for them, what they most enjoy about working in a laboratory and what advice they'd give to those considering a laboratory career.

Find out more, here.
COVID-19 cases, vaccination and testing programme

Update from COVID-19 Testing and Vaccination Programme for Cheshire and Merseyside – 2nd July

Through the national "Grab a Jab" we are continually encouraging all adults to get the vaccine – whether they have been invited or not. You can view the latest schedule for the vaccine centres in Cheshire and Merseyside that are offering the "Grab a Jab" service here.

Getting vaccinated, regular testing and getting the basics right are the best way to combat Covid-19.

Read more.
In case you missed it...
Cheshire and Merseyside is working together to tackle health inequalities and become a Marmot Community

The sub-region of Cheshire and Merseyside is on track to tackle health inequalities head-on by becoming a Marmot Community.

Find out more, here.
Liverpool team recruits first UK patient for personalised 'therapeutic cancer vaccine' trial that could transform outcomes for people with head & neck cancers

Researchers in Liverpool have begun recruiting patients to a 'first-in-human' clinical trial of personalised 'vaccines' that aim to reduce the risk of head and neck cancers – which include mouth, throat, tongue and sinus cancers – from recurring.

A team of cancer researchers from Liverpool Head & Neck Centre, The Clatterbridge Cancer Centre, Liverpool University Hospitals and the University of Liverpool are trialling new vaccines – tailored to each individual patient's cancer – to see if it reduces the risk of head and neck cancer returning.

Read more.
Jan Ross announced as new CEO of The Walton Centre

Jan Ross, former Director of Operations and Strategy and Deputy Chief Executive at The Walton Centre, has been appointed as the Trust's new Chief Executive.

Jan, who has 30 years' experience working in the NHS, joined The Walton Centre in November 2018. A nurse by background, she has also spent time at Southport and Ormskirk Hospital NHS Trust, Warrington and Halton Hospitals NHS Foundation Trust and the Royal Liverpool and Broadgreen University Hospitals NHS Trust.

Read more.
Alder Hey Wins Big at the EHD Awards 2021

The new Alder Centre was awarded overall winner at the prestigious European Healthcare Design Awards.

Earlier in June the new Alder Centre, designed by Allford Hall Monaghan Morris, was awarded overall winner in the annual European Healthcare Design Awards. Submissions were received from 40 countries across the globe, representing the very highest quality and innovation in healthcare design and architectural excellence.

The Alder Centre was submitted into the Healthcare Design (Under 25,000 sqm) category, and beat off stiff competition from across the world to be crowned overall winner.

Read more.
Wirral Community Health and Care NHS Foundation Trust shortlisted for two HSJ Patient Safety Awards 2021

Wirral Community Health and Care NHS Foundation Trust (WCHC) is delighted to announce that two projects have been shortlisted at this year's HSJ Patient Safety Awards, recognising their outstanding contribution to healthcare.

The Integrated Therapy Review initiative has been shortlisted for 'Improving Care for Children and Young People Initiative of the Year' and the Infection Prevention and Control Care (IPC) Home Project has been shortlisted for the 'Covid-19 IPC Award'.

Read more.
Cyber Security Group Bulletin

In the 41st edition, NCSC CEO says ransomware is the key cyber threat facing the UK, a new stark lesson unfolds on the cyber security dangers that are lurking 'out there', NHSX Cyber Security Team Is working towards producing a Cyber Security Strategy and much more.

Read the full bulletin here.
Pathology Network bulletin

The first edition of the Cheshire and Merseyside Pathology Network newsletter, features a bit of background on the Network, its vision, and information on the programme's governance and structure.

This edition also includes an introduction to the nine workstreams within the programme, highlights good news from the Network itself and last but not least includes a 'meet the team section', which outlines the individuals who make up the Programme Management Office (PMO) and the Programme's Clinical Leads.

Read the full bulletin here.
The Women's View: Liverpool Women's Trust magazine

Bringing you the latest news, updates and all things LWH.

Read issue 05, here.
Media Roundup: 18th June - 2nd July

A summary of the latest key headlines from across the Cheshire and Merseyside footprint, including a snapshot of the most prominent discussions held around health, social care and local authority services in the patch.

Read the roundup.
We want to hear from you!
If you have a story you would like to feature in the next edition of Connect, please email cm.partnership@nhs.net.
Visit cheshireandmerseysidepartnership.co.uk for more information.
Copyright © Cheshire & Merseyside Health & Care Partnership, All rights reserved
Our mailling address is:
Cheshire & Merseyside Health & Care Partnership
Regatta Place | Brunswick Business Park | Summers Lane | Liverpool | L3 4BL