Welcome to the programme newsletter
Welcome to the Humber Acute Services programme newsletter. In it you'll find the latest news and updates about the programme, alongside information about how you can get involved, share your ideas or ask questions. It's also an opportunity to find out more about some of the people who are involved in the work.

In this edition, we're focusing on Programme One (the Interim Clinical Plan) and some of the services that form part of that work.

We hope you will find this update helpful and interesting.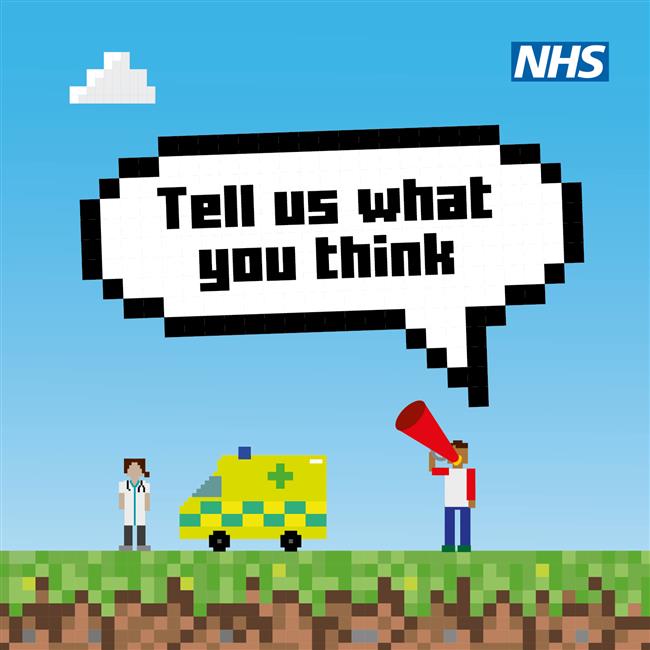 Calling all parents, carers, friends – we want to hear from your young people!
We would really like to hear from children and young people about their experiences of going to hospital or seeing their doctor.

Help them to have their say and shape the future of paediatric services and they could also be in with a chance of winning a smartwatch!

Click here to find out how to get involved.

We would also really like to hear from parents and carers of children and young people who have experience of using one of our hospitals for paediatric care, to help us understand what works well, what doesn't and what could change to improve your experience.

Please take 5 minutes to complete this short survey and share it with your friends and family to help us understand what is most important to you as we work to plan for the future.

The surveys are open now and close on 22 November 2021.

Please help us to spread the word so we can hear from as many children, young people and their families as possible. Thank you!!
Programme One: The Interim Clinical Plan

Some of our hospital services continue to face pressure due to not always having the right numbers of staff to care for the increasing number of patients across different hospitals.

Hull University Teaching Hospitals NHS Trust (HUTH) and Northern Lincolnshire and Goole NHS Foundation Trust (NLaG) have committed to working together to address these challenges across the most vulnerable or fragile specialties - making the most of the skills and expertise across both hospital trusts, to help ensure patients across the Humber have equal access to quality services.

More details of the services included in the Interim Clinical Plan and the challenges they face are available here.

Working together provides better opportunities for both hospital trusts to address some of the difficulties facing fragile services. These opportunities include creating joined up teams and making jobs in the area more attractive; and looking at doing things differently to help reduce waiting lists more quickly than if services continue to work as they do now.

To help deliver the Interim Clinical Plan, we're putting in place joint clinical leadership across different specialties and developing plans for services to deliver:


More consistent services, with improved care and treatment.
Reduced waiting times, with a consistent approach to prioritising and managing waiting lists across the Humber.
The right care, first time and in the right place.
Care closer to home (where we can) that reduces the number of times patients need to go to hospital.
Better use of technology to reduce duplication and limit the number of times patients need to tell their story.

You can read some specific examples elsewhere in this newsletter; and we'll share more details about other specialties in future editions.
First Joint Service Goes Live
Humber Neurology Service
For some time, hospital services across the Humber have been stretched due to shortages of skilled staff and increasing numbers of patients - resulting in some urgent changes being made to some services.

Despite the best efforts and hard work of all our staff, a number of services have continued to face these challenges across our hospitals; and in early 2020, we identified those services in greatest need of support to maintain patient safety and help to avoid the need for more urgent reviews and changes to services.

Neurology - a branch of medicine dealing with the diagnosis and treatment of a range of disorders and diseases relating to the nervous system, including the brain and spinal cord - was one of the services we identified.

In early 2019, we held a number of focus groups to hear from patients accessing neurology services across the Humber. This included three listening events hosted in partnership with the MS Society, where a total of 129 people took part. The feedback report is available here.

At these events, patients told us that neurology services worked well together, they responded to patient's needs and provided high quality care.

Patients also told us there could be delays in receiving care (due to the capacity of the service) and some patients couldn't access services as easily, depending on where they lived. Other aspects of the service that could be improved included communication.

Some ideas for how we could improve services were also highlighted, including making better use of our staff and technology, having a single point of contact and improving access for all.

Using this feeback from patients and knowing the service needed additional support, we have joined up the Neurology service across the Humber. This will make sure that all patients can access the same specialist care irrespective of where they live. The service will be known as the Humber Neurology Service - and went live earlier this month.

When a patient is referred to the Humber Neurology Service, they will now be able to get direct access to any tests they need and go straight to the right specialist for them.

We have brought together our patient record systems behind the scenes so that the neurology clinical team in Hull, Grimsby and Scunthorpe can access the records they need to provide seamless care to neurology patients. Over the coming months this will be further developed to keep improving patient's experience and access to services.

The Covid-19 pandemic forced us to speed up our plans to offer alternatives to face to face appointments. These have worked really well in our neurology clinics and we will continue to offer virtual clinics where they suit patients best. We will continue to offer face to face appointments when there is a need for them.

Over the coming months we will be bringing in changes to share necessary information with ambulance services, GPs, district nurses and other teams.

Read more about how we're responding to what you have told us matters most here.
What is Cardiology?

Cardiology is the medical specialty that involves the diagnosis and treatment of diseases, conditions, or defects of the heart and circulatory system. The circulatory system is made up of blood vessels (arteries and veins) that carry blood away from and towards the heart.

How are health and care services changing?

Over recent years, there has been a big move towards helping different health and care services work more closely together - focusing more on patient's overall needs, rather than their area of expertise. Working more collaboratively is a significant priority for the cardiology service and cardiac services across the Humber and will continue to be developed and improved.

What does this mean for cardiology services across the Humber?

As an example, with different parts of the health and care system working more closely together, by 2024 we could see the cardiology service delivering more than half of its current outpatient appointments and diagnostic activity in different community settings, rather than in hospitals. These different settings could include community diagnostic hubs, community cardiology clinics and working more closely with local GP practices (through Primary Care Networks (PCNs)).

It could also include maximising how we use technology to offer patients an alternative to a traditional face-to-face appointment (where appropriate) – for example with the use of telehealth or virtual appointments.

What other opportunities might exist

The cardiology service wants to promote a greater degree of joined-up working between local GP practices, community services and hospitals for the benefit of people across the Humber and wider region. Some other examples of opportunities to help achieve this include:

Enhancing the skills of GPs through targeted education, training and development.
Looking at how we manage patient referrals better to help ensure patients get the right sort of help, in the right place and at the right time.
Having reliable digital systems that work with each other and make it easier for patients and health and care staff to work through.
Connected Health Networks – turning outpatient cardiology on its head in North East Lincolnshire

Through the Humber Acute Services Programme we want to identify, scale up and roll out new ways of working that are already making a difference to patients in our region. One example of this is the Connected Health Network pilot that has been trialled in North East Lincolnshire by Meridian Health Group (Primary Care Network) working in partnership with Northern Lincolnshire and Goole NHS Foundation Trust (NLaG).

What's different about the Connected Health Network (CHN) model

Traditionally, patients are referred from primary care (GPs) into secondary care (hospitals) for specialist care. Once the assessment and treatment has been completed, patients are then discharged back from the specialist to the care of their GP. This cycle is repeated each time the GP needs specialist advice in the care and treatment of the patient.

The CHN model brings GPs and specialists together - in partnership - to provide ongoing care and support to patients when they need it. This provides fast and easy communication and decision-making between GPs and specialists, while ensuring patients only go to the hospital or GP surgery when they really need to.

Benefits of the Connected Health Network (CHN) model

The Connected Health Network (CHN) model makes things better for patients in a number of ways, including reduced waiting times, seamless care and only attending hospitals when needed.

The CHN pilot delivered some impressive results, including:


Waiting times for patients drastically reduced (typical wait time for CHN referral was 1 week; compared with the 16-week wait time for a new outpatient appointment).

The backlog of follow up appointments for Meridian PCN cardiology patients was cleared within 4 months.

Only 30% of patients required hospital-based intervention.

Summary

The CHN model is currently being rolled out in cardiology across additional Primary Care Networks (PCNs) and is a great example of some of the outcomes we are trying to achieve through the Interim Clinical Plan.

It shows how working differently can help us improve things for patients, reduce waiting times, and make better use of our collective resources to deliver good patient outcomes.

There are plans to trial the CHN model across other specialties over the coming months.
Getting to know.....Dr Simon Thackray
What is your name and what's your role?

I'm Simon Thackray – I'm an interventional cardiologist (I do plumbing in people's coronaries arteries), and the Associate Medical Director leading the cardiology services across HUTH (Hull University Teaching Hospitals NHS Trust) and NLaG (Northern Lincolnshire and Goole NHS Foundation Trust).

My role in the HAS Programme is part guinea pig (I've been called worse) and part trailblazer for aligning services between two Trusts and also integrating much more with community based services the rapidly evolving Integrated Care System (ICS).

What do you love most about your job?

At the personal level – I love communicating with patients, who are often vulnerable and don't know fully what their health problem is going to mean for them. I'm there to put them in the know, ease the anxiety, and try and empathise. Things that will take a computer a few more decades to learn I hope.

More broadly – I also enjoy working with the team to build a viable vision for cardiology and communicate that in a way the builds trust that we have a plan, and a plan that is worth investing time and effort into. Much of my role is marketing a vision to the broader system, and also enthusing colleagues to change.

What is the most exciting thing about the programme – what makes you want to be part of it?

I love how the Trusts have thought laterally and decided to try and solve problems by working together. In the short term I've no doubt it's been a pain for each Trust, but in the long term the survival of this region as a place that can attract talent, train people, do research, and keep us healthy is completely dependent on the big Trusts working as one.

It's taking a big culture change – I've worked for both Trusts and know there is often no love lost – but future generations will be thankful.

If you could wave a magic wand, what one thing would you change about health and care in the Humber?

OK – so I'm biased here as I grew up in the area, but I wish we could convince more people nationally and internationally that it's a great region to live, work, raise kids, and grow in. I know the image problem Hull has from having been asked a million times where THAT is. – But I've seen a lot of the world, and people and places around here are fantastic. We don't always market ourselves well enough, and keeping our great workforce is about attracting people. My magic wand would bring together Hull York Medical School (HYMS), the Trusts, GP leaders and several million quid and have a brilliant marketing strategy that offered rewarding flexible careers.

Have you ever worked outside of the NHS? What did you do?

I've worked abroad for 3 years of my career – outside of the NHS.

In the 90's I did a year in Sydney – and saw the difference that well-funded healthcare can make, and saw my first medical assessment unit. The NHS was shambolic in the 90's and it was a real eye opener.

I did two fellowships as a senior registrar to Germany and Singapore – and saw how respected UK science and research and medical training is across the world.

My final stint was in the Gulf – having taken a career break in 2013 from the NHS and working in a US based system. It was very different from the NHS, extremely well-funded, but wasteful – disjointed, and lacked primary care. GP's and primary care are the key to most of what the NHS do – it's undeniable. Hospitals are very expensive and frequently the wrong place for patients.

The NHS has tended to keep its specialists in Hospitals – and never the twain shall meet as regards primary care. Germany and much of Europe (and the US) have a much looser demarcation – and I hope we move that way in this region.

Have you learnt any new skills during the pandemic?

I've really taken the time during this pandemic to see what other professionals around me do, and how they do it. As a medic we tend to think in one set way – but nurses and operations teams do things differently, often more flexibly and are good at balancing competing demands. I've learnt a lot having navigated through the thing that has been the pandemic – I guess the key skill has been flexibility of approach! (code for listening more).

Who is your role model and why?

I've had a few professional mentors over the years – Mike Norell ('just because you can stent it Simon, doesn't mean you should stent it') Farqad Alamgir and his complete patient focus, John Cleland giving his time to guide me through research – but I'd have to say my late mum was my role model, she was the consummate diplomat (having had 4 kids) and was very patient in finding the compromise that kept the show on the road. The Humber Acute Service Programme will not end up being perfect, nor everything that I or anyone fully wants – ultimately it will be a compromise, but that's the only way it will work.
Is using ambulances to help get patients to appointments the best way of doing things?
Question

The issue is transport. Could we not have bus services in place where we can coordinate appointments when we know we've got a bus, say from Grimsby, coming to Hull Royal on particular days of the week, at certain times? Or, better still, put your new hospital next door to a railway line?

Answer

We have already had some discussions with local public transport providers about this type of transport model - that goes between some key pickup points, ideally within areas where patients who might otherwise struggle to travel to appointments at the different hospital sites.

We are also working with a range of partners including community transport organisations and others in the voluntary and community sector, transport planners (at local authorities), and public transport operators at how we can make transport better for all patients across the Humber, when they do need to physically access care and treatment in a hospital setting. We held an initial transport workshop in September, with a further one planned in the near future.

However, another key aspect of the programme is keeping as many services as possible close to where people live and work – and to try and avoid patients having to come into secondary care facilities as much as possible. So some of the questions we are asking ourselves and services include, 'What could we do in the community?' and 'What could we do to help with self-care?' and fundamentally, 'How could we run services differently to reduce the number of times patients have to attend?'

Other 'non transport' considerations will have an increasingly important part to play in the transport solution – such as the increased use and development of technology to allow remote consultations where appropriate, in people's homes, or in local community-based health and care facilities meaning fewer people have to travel long distances.

Ask A Question
You can ask a question about any aspect of the programme at any time by using the online question portal or by sending an email.


We launched our revamped Humber Acute Services programme newsletter in July 2021. Each newsletter includes a range of information about the programme and you can access previous editions by clicking the links below:

Find out more and get involved
There are lots of ways to find out more about the programme and share ideas
You can: Read a range of detailed information about the programme by visiting our website.

You can: Ask a question or get in touch with the programme team by emailing hasr@humbercoastandvale.org.uk

You can: Visit our Engagement Hub for details of live surveys and other engagement events that will be taking place over the coming months.