Welcome to the programme newsletter
Welcome to the 3rd edition of our Humber Acute Services programme newsletter.

In it you'll find the latest news and updates about the programme, alongside information about how you can get involved, share your ideas or ask questions and an opportunity to find out more about some of the people who are involved in the work.

We hope you will find this update helpful and interesting.



What the Building Better Places programme is all about.
The Building Better Places programme is the third pillar of the Humber Acute Services programme – and is all about securing the investment we need to redevelop and rebuild our healthcare buildings across the Humber.

We have ambitious plans for our population but we can't always make the changes we need to within the buildings and infrastructure we've got. Some of our key buildings are in a poor state – some parts have been deemed unsafe to deliver patient care and other areas are crumbling away. The associated services in the buildings – like electricity, water supplies and digital infrastructure – don't always meet the latest standards. Services don't run as smoothly as they could because IT systems do not always work together – both within the hospitals and between different NHS and care providers.

So through this work we are seeking to design and build healthcare facilities for the future that are more flexible, more integrated and better equipped for the provision of 21st century healthcare.

In doing so we can create opportunities for staff – both existing staff and the workforce of the future – to deliver healthcare in new and innovative ways, with better access to equipment and technology and more opportunities to work together with a wide range of health and care professionals.
Playing our part: The role of health and care organisations in the local economy

If you think healthcare facilities are just places to go when you need to get treatment, think again.

Health and care organsations are some of the area's biggest employers; hubs for learning, research and development and significant contributors to our local economies.

As well as providing care and treatment for patients; and supporting them through some of their toughest times, the decisions we make about how we work togther to deliver services can have an impact on the local environment and the general health of our communities.

And, of course, there are the lifelong bonds we make with each other. We're not known as the NHS family for nothing.

As we move forward with the Humber Acute Services (HAS) programme we want to build and expand on these strong foundations and further cement ourselves as anchors within our communities.

Chris O'Neill, the ICS director lead for estates and capital development, said: "This programme isn't just about us bidding for money to replace our ageing buildings. This is about improving our local area – environmentally, economically, socially and visually – as well as providing better quality, better performing services. We have a responsibility as organisations providing NHS services to promote the health and wellbeing of our population not just provide good services - developing our role as anchor organisations can help us to do this".

"We know that to do this well it's not something that our hospitals – or even the wider NHS – can do on our own. We have forged a wide range of partnerships, ranging from the education sector to our Local Enterprise Partnerships and other key employers in the Humber region to ensure that any changes we make will benefit our communities in ways that go beyond their immediate health concerns".

"Everything we do is about bringing further benefits to our region – whether that's through increased job opportunities and the related economic growth that brings, or sharing our resources to boost development, opportunities for growth and help raise aspirations".

"For example, where we refurbish or construct new facilities, wherever possible, we will employ local firms to lead on these new developments, creating jobs and ensuring that our investment benefits our local economy and infrastructure".

"Further jobs will be result from our partnership with our local universities, as we create new state-of-the-art health and care campuses which will drive more innovation and research, as well as giving our staff better career pathways and prospects for development".

"As the Humber's growing reputation as the UK's green energy centre grows, more and more people are falling in love with the area, putting down roots and joining our partnership. This offers a wide range of opportunities for us to make an even bigger difference with our investments into health and care in the Humber region".
We will use the investment in our buildings as a lever to boost the local economy, to contribute to regeneration and the revitalisation of the Humber region. Ensuring our investment programme serves as a catalyst for economic and social revitalisation on a much grander scale, transforming the lives and welfare of people and communities across the Humber region.

Research shows there are strong links between health improvements and economic growth; and we believe the investments we make into our buildings can have significant wider benefits to the health and wellbeing of our local communities.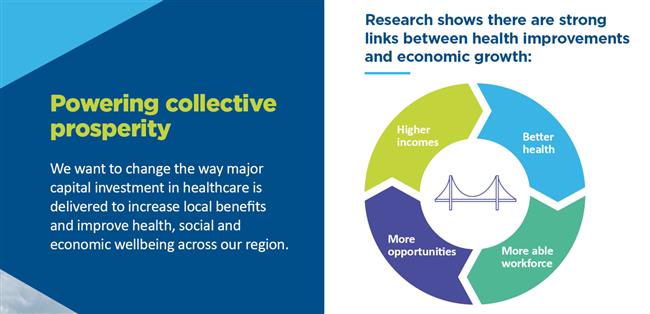 You can read more about the broader economic impact of our investment plans here.

Through the Building Better Places programme we are seeking to design and build healthcare facilities for the future that are more flexible, more integrated and better equipped for the provision of 21st century healthcare. While our communities have grown and changed around us, the way in which we offer acute healthcare services has stayed largely the same and is no longer delivering what they need.

Chris O'Neill, said: "The architecture of hospitals and the healthcare system is pretty much the same now as it was when the NHS was formed.

However, the health care system of the future will move away from this model – offering similar services but in a way that is more convenient for patients; is more effective and efficient; and that helps us manage infection control better.

By working together, we believe Northern Lincolnshire and Goole NHS Foundation Trust (NLaG) and Hull University Teaching Hospitals NHS Trust (HUTH) can transform the way we provide acute care in a way that benefits both you and our patients."
The national new hospitals building programme
In October 2020, the government named 32 hospitals to form part of its 40 new hospitals building programme. In mid-July, the Department of Health and Social Care invited expressions of interests from NHS trusts wanting to be considered for inclusion as one of the final 8 hospitals in the next wave of the New Hospitals Programme.

This invitation came at a crucial time for the Humber Acute Services Programme and to meet the government's deadline, earlier this month we submitted our 'Expression of Interest' making our case to the Department of Health and Social Care for significant capital investment – in the region of £720m – for the development of healthcare infrastructure across the Humber.

We are developing plans through the Humber Acute Services programme for the future of hospital services across the region and how these could be provided differently. The investment in buildings we are seeking will help to make those plans a reality over the next five to ten years.

We believe that by working together, we will be able to make the best use of our staff, skills, buildings and equipment that, in turn, will make it easier for patients to get the care and quality of services they need.

Helping to determine what that looks like physically, including how and where we provide those services is what the Building Better Buildings programme is all about.

The plans are still being developed and there is still lots of time to get involved and help to shape what the future will look like. Opportunities to get involved, e.g. through surveys and events, will be shared on our Engagement Hub.

We expect to consult with the public on the different possible options in Spring 2022.

Your Questions Answered...
Are we thinking about the integration of IT systems?
Question:

What are the plans\roadmap for IT integration? Without a commitment at this level, my experience tells me HASR will fail.

Answer:

Without effective, integrated IT this programme will fail.

The level of integration needed is not just between the two acute hospital trusts, but across different partner organisations. As an example: at present our ambulance services collectively work independently of the acute trusts – they don't have access to records, so if we want to do more "see and treat" and "hear and treat" it is important they have the right access to information that helps that work effectively. The heartfelt plea from a Clinical Nurse Specialist is absolutely right, as not only can our staff get lost in the system, but our patients can also get lost in the system.

Currently looking at integration of our acute hospitals patient information systems. We need to recognise that the NLaG patient administration system is creaking and coming to the end of its usefulness; so we need to be building and designing the digital roadmap that helps us get more effective integrated patient information – so that it is interoperable with other systems and so everybody can use it.

However, we are not simply looking at digital solutions to help run our business effectively; we are looking at how digital technology can help to support our patients, our staff and the wider communities in a more effective way. This includes considering self-help, early intervention, prevention and how we make best use technology to help us improve those areas of care and support.

Importantly, the other aspect of technology we are investigating is around how we use technology to drive service change – so not just about service delivery, but also about service change: Technology such as advanced robotics; advanced artificial intelligence; and developing potential partnerships to help us make the best use of such advances.

Finally, it is also important to recognise that through the good work of our IT colleagues across both acute trusts, we have secured £10 million worth of digital funding. Over the next 2 years people will see changes in what's known as our 'digital fleet'. As part of Phase 1 (£5 million), we are making changes to laptops, desktops, the integrated equipment that people use. Then, Phase 2 (£5 million) will address supporting infrastructure.

In summary, we are applying some money to make the best use of technology and we will need to do some more heartfelt thinking about what the digital capital spend will be as we move forward; as without it we will absolutely fail.

Ivan McConnell (Responsible Director for HAS and Director of Strategic Planning, NLaG)


Tell us What Matters to You
We have re-opened our What Matters to You Survey, so there's still time to have your say.

Please tell us what matters most to you, so that we can plan the future of our health and care services with that in mind.
Find out more and get involved
You can find out more about the programme and share your ideas in lots of ways
Read more about the programme

there is lots more information available on our website
Ask a Question - get in touch

Respond to a survey

we will be running a variety of surveys over the coming months
you can find out more and take part on our Engagement Hub
Attend an event

workshops and events will take place later in the year details of how to get involved will be available on our

Engagement Hub