WELCOME!
Hello,

Welcome to the 3rd edition of The Promise Scotland design newsletter.

In this issue:


Virtual Coffee: join the Virtual Coffee network for informal chats and support.
Learning Calendar: what's coming up over the next few months.
Design school update: new design school cohorts coming up.
Design Nuggets: Hot tips on making the design journey easier for you.
Spotlight on Innovation: What amazing innovations are currently happening?
Join us and meet other design thinkers
Relaunching in September 2023, the Promise Scotland's Virtual Coffee chats take place monthly, and anyone is welcome to join. Hosted by the Support team, the group chat focuses on design thinking and creative problem solving.

If you're not already registered, you can register for the Virtual Coffee catch ups by emailing us at promisedesignschool@thepromise.scot

Sign up to here to request a slot at an upcoming virtual coffee. Choose from:


Peer to Peer Problem Solving: share a challenge you are working through for facilitated counsel from peers.
Design Crit: share your idea or approach visually, to access a 360 perspective from your peers to help you stay curious about the potential and blind spots in your work.
Spotlight: access a 15m spotlight to share information you think others would benefit from hearing from your work. Optional additional Q&A.
Design School: Digital 2-day Sprint (September)
This two-day online session split over 14 and 28 September invites small project teams to "sprint" through the double diamond to learn key concepts in service design. We support you to consider how you may apply service design techniques to your co-design efforts, sharing influence to make sure you focus on what matters most.

14 and 28 September, 2023

APPLY NOW
Learning Calendar - New Learning offers available
The Promise Scotland Learning Calendar has more learning offers now live.


For the full collection of The Promise Scotland learning events on Eventbrite, VIEW HERE

Duncan Wallace, who facilitates 'Getting to grips with the hybrid format for your promise work' was recently awarded Director of the Year for Innovation 2023 by The Institute of Directors and you can hear more from him about this HERE. Congratulations Duncan!

Each and Every Child offer a Framing Café which is a friendly and informal space to learn from and with others. The next cafe will run on Thursday 10th August, 12:30 to 13:30pm.

Want feedback on a piece of reframed work, or more insight on how and where to use our framing recommendations? Sign up here.

The Learning Calendar will take a pause from September to December as the team evaluate the feedback to date and plan the next exciting iteration for 2024. If you have participated in any sessions, there will be an evaluation survey sent to you during this time and the team would really appreciate all feedback.

Please feel free to get in touch if there is something you would like to see on the Learning Calendar.

Do you have a learning offer you would like The Promise Scotland to consider for the next iteration of the Learning Calendar? If so, the team would love to hear from you, please fill out this FORM and one of the team will touch base with you to discuss further.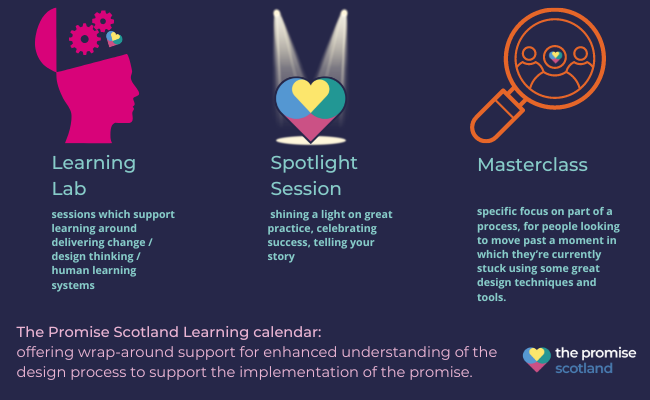 Sharing our nuggets of gold on design thinking
This section is where The Promise Scotland team share helpful resources and tips on design thinking to support your change journey.

Design resources:

The Service Innovation Handbook- Lucy Kimbell
Intrigued by terms such as design thinking, service design and experience design? Lucy Kimbell's Service Innovation Handbook brings together the latest academic research, and leading examples of innovative service organizations and the consultancies they work with, to outline what is involved in designing innovative services. Since first being published in late 2014 and now in its third printing, this book has found readers and users from across the business and design worlds.
PDF version

Design Playbook- The Office of the Chief Designer, Scottish Government
The vision for the Scottish Approach to Service Design is that the people of Scotland are supported and empowered to actively participate in the definition, design and delivery of their public services (from policy making to live service improvement). The document covers:


how a shared set of principles and some basic tools will help us design around the needs of people (and not around how the public sector is structured)
how thinking about people's 'life events' helps us embed that way of working
what we mean by services, design, and users
how you design with, as well as for, your service users - and how to do this in an accessible and inclusive way
how you can assess the maturity of the Scottish Approach to Service Design in your organisation
how to contact us for more information and to provide feedback
This is a framework to guide how we design user-centred public services and not an attempt to create a template/toolkit for designing any service.

Design top tips

When navigating the world, people often use heuristics: rules of thumb about how things are likely to work.

For example, "it looks cold outside, so I'll wear my jumper" is a heuristic. It might not be guaranteed: it might actually be warm outside, and you could feel too warm. But enough of the time, the thought process applied is a useful rule of thumb— so it helps to make life a bit easier.

Good services make sense to those who use them. If someone is engaging with a new service they are likely to apply their own 'rules of thumb' based on what has been familiar to them. With that in mind, how easy is it for someone to move through your service? What is already intuitive to them that you can build on in your design to help this?

If your service is intentionally trying work 'differently', how might you help people navigate what feelsdifferent? How does your design not just 'be' different, but guide people to understand what is different and how to interact with it.

For further reading on heuristics:
The team are always looking for more helpful hints, tips and resources so let the team know if you have any 'design nuggets' to share!



Let us shine a spotlight on your innovations
The Promise Partnership Showcase event was about learning and celebration. Held on Tuesday 27 June 2023, it looked to recognise the work of projects which:

received investment from the Promise Partnership's Getting it Right for Brothers and Sisters fund, or
received investment from the Promise Partnership's Good Childhood fund.
The Promise Partnership is administered by Corra Foundation, and this event was jointly hosted by The Promise Scotland, and Corra.
At the event, each funded project developed a poster which highlighted:


the change which was driven by the funding, and
the learning gained from the project.

You can view all the posters online. To submit a poster to the online gallery please contact supporthelp@thepromise.scot

Clackmannanshire Language
Clackmannanshire Council identified that as part of their commitment to keep the promise they needed to change the language they used when supporting and caring for children and families.

Over the last 12 months Clackmannanshire Council developed their "Language of Care Policy" which is currently awaiting committee approval.

The policy was co-designed by the Participation Network in Clackmannanshire which has representation of those with lived and learned experience of care, ensuring the voice of those with experience of care was central to the development of the policy.

Using the Scottish Approach to Service Design, extended discovery and define phases allowed all those with an interest to contribute to the development of the policy through surveys and designs sessions. The language policy is built on four themes: non-judgemental, easy to understand, culture and values align and transparent.

The draft policy was launched at Clackmannanshire's Language of Care event with workshops to support the workforce to contribute their views and Oor Clacks Voices (Clackmannanshire' s Champs Board) provided feedback through one of their sessions . All feedback was collated, and changes were made before final sign off by the Participation Network.

The policy sets out to be more than just changing words; the aim is to ensure a change in the culture around language and resulting in a practice change that will produce increased inclusivity and individualisation of children and young people.

Next steps, following approval, include the development of a toolkit to support implementation with the workforce in Clackmannanshire.

Key Contacts :

Gemma McGill : Assistant Educational Psychologist - clggill@glowmail.org.uk
Johan Roddie : Service Manager, Children and Families – jroddie@clacks.gov.uk
Rachel Keenan : Promise Delivery Partner – rachelk@thepromise.scot

Shared Lives Plus; Supported Parenting in Scotland 22-23
Between 40-60% of parents with a learning disability have their children removed. With the right support and a whole-family approach, parents with learning disabilities can provide loving and stable homes for their children.

Shared Lives enables more parents to realise their right to a family life. In Shared Lives parents maintain parental responsibility for their child. The role of the Shared Lives carer is not to care for the child, but to enable and support the parent. Shared Lives provides 'supported parenting', not 'substituted parenting'.

With funding from the Promise Partnership administered by the Corra Foundation Shared Lives have worked in partnership with parents with learning disabilities, Shared Lives Schemes, leading academics, The Promise Scotland and health and social care professionals in Scotland to help more families stay together. Find out more HERE.

Do you have something you would like to share with others? Book a spotlight session filling out this FORM. The team will work with you to create the format that suits your story best and will support you in telling your story.


We want to hear from you
If you would like to be part of a focus group for the learning calendar as the team put out new iterations or have any general feedback for the Learning Calendar pilot, please contact clarem@thepromise.scot

What would you like included in this newsletter?

Please send any feedback, queries, ideas and amazing innovations to promisedesignschool@thepromise.scot

The team love hearing how we can improve!