First EPR switched on

Today it was announced that the new Taishan Unit 1 reactor, one of two EPRs under construction in Guangdong province, China by an EDF and CGN joint venture, has successfully entered into commercial operation.
This major development comes after announcements were made earlier in the year about fuel loading at the reactor, and the station being linked to the grid. This latest milestone is another vote of confidence for the EPR which will also be deployed at Hinkley Point C in Somerset, and of which SZC is a copy.

By the time of Commercial Operations for SZC (when we propose to set the availability factor) there will be more than ten years of EPR operational experience.
Sizewell C consultation launches

The third stage of our public consultation for a new nuclear power station on the Suffolk coast, Sizewell C, will begin on Friday 4 January 2019.
The Stage 3 Public Consultation will run for 12 weeks, ending on Friday 29 March 2019.

The plans presented will include associated development needed to enable construction, such as park and ride sites and various options for road and rail improvements. Exhibitions will also be held in schools and colleges to talk about the positive impact the project will have on skills in the region.

Jim Crawford, Sizewell C Project Development Director, said: "Sizewell C will bring significant benefit to the East of England – jobs, education and skills development, as well as opportunities for local businesses. Our sister project in Somerset, Hinkley Point C, is already delivering, with Government figures showing South West companies winning contracts worth more than £1.3 billion. By working innovatively with local Somerset firms to ensure they can bid for big contracts, we have already spent £650m in the region. We want to deliver the same benefits for the East of England.
Progress with the RAB model

We continue to make good progress with Government. Officials have submitted a feasibility study of RAB and a ministerial decision is expected in January.
The future energy mix

Nuclear and renewable generation can work together to deliver the low carbon generation the UK needs.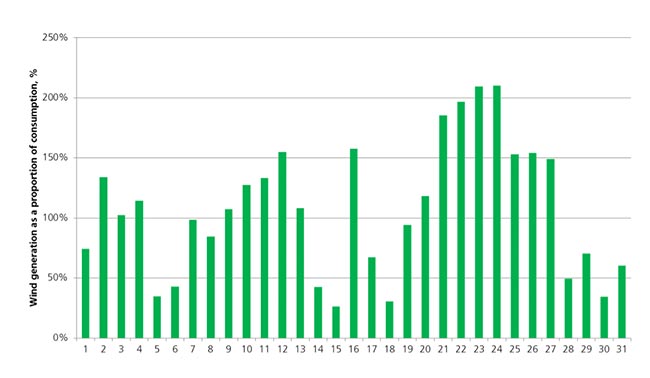 As a proportion of daily demand in Scotland, wind varied between 26% and 210% over the month of October 2018.
Nuclear, hydro and gas provided two-thirds of Scottish demand in the same month, and essential ancillary services.
To decarbonise the electricity system we need to bring our carbon down below 60grams per KWh – it is 220grams at the moment. We support as much wind as practically possible, but wind alone is not reliable. There are extra costs when there's not enough or too much wind and that cost gets higher, the more you decarbonise the system. The chart above shows the mismatch of supply and demand for wind generation in Scotland during October.
HPC progress update - Unit 1 Nuclear Island Common Raft first J0 concrete pour

HPC has achieved another major project milestone by pouring the first concrete for the common raft of the Nuclear Island.
The Common Raft is made of reinforced concrete, has embedded pipework and tanks as well as many embedded fixings ready to attach equipment and, when complete, will weigh 4,500 tonnes. The Common Raft ensures the stability of the Reactor Building, Safeguard Buildings and Fuel Buildings which all rest upon it. The Common Raft is designed to withstand accidental incidents, earthquakes, aircraft strikes and an explosion or fire.

HPC has also achieved the freeze of the design for the EPR in the UK. This design will be replicated for Sizewell C.
Sizewell B and Sizewell C apprenticeship open day

EDF Energy is searching for apprentices looking to start a rewarding career as Engineers, Chartered Surveyors and Quantity Surveyors.

The company opened the Sizewell B visitor centre in Leiston on Saturday 1 December so people could find out more information and meet some of the company's apprentices.

Apprentice coordinator Roger Barge will give potential new recruits an insight into life as an apprentice at the event, which is being held at the popular Sizewell B visitor Centre.

Glen Bunting, a Sizewell B fourth year apprentice, will be on hand to talk to visitors. Glen said: "I am really enjoying my apprenticeship and am looking forward to meeting people at the event and sharing my experiences with them."
STEM events across the region inspire schools to engage in new nuclear

During October and November Sizewell C and Sizewell B have been at Science events across Suffolk and Norfolk to inspire young people in Science, Technology, Engineering and Maths (STEM).
Suffolk Skills Show and Norwich Science Festival

We were delighted to be involved in the Suffolk annual Skills Show which saw hundreds of students from schools across the county learn more about exciting careers with the Sizewell C project and Sizewell B power station.
Using Virtual Reality kits with Computer Generated Imagery (CGI), students enjoyed a 360° virtual reality tour inside a nuclear reactor which saw them shrink to the size of an atom and journey to the core of a nuclear reactor so they could see how energy is produced.

The Sizewell B visitor centre took their mobile exhibition to the Norwich Science Festival over October half-term and engaged with hundreds of families with hands-on science activities for all ages and all levels of knowledge.
Science lessons move out of the classroom in Suffolk

500 Suffolk schoolchildren have taken part in a national science festival held in Ipswich.
The LabLive show aimed at Y8&9 students brought the best of Cheltenham Science Festival to Ipswich, in a bid to inspire and engage inquisitive young minds. As well as enjoying an interactive show covering some of the latest scientific themes, pupils also learnt more about the benefits of studying science, technology, engineering and maths.

Marine Biologist Russell Arnott said: "By meeting real life scientists I hope the children can see the range of things you can do with the subject and where it can lead you."
Skills for Energy

Sizewell B apprentices attended the Skills for Energy (SfE) exhibition organised by the East of England Energy Group.
The event is one of a number of ways that EEEGR is working with industry to ensure the ongoing diversity and volume of skilled people for the energy sector. The programme focuses on delivering skilled people to the industry for long-term careers and ensuring the existing workforce continues to meet the industry's needs, now and into the future. The project is centred on addressing core skills needs across all energy sectors, both technical and commercial, and this is achieved through collaborative partnerships.
New nuclear community and business benefits

Progress against Hinkley Point C's (HPC) core socio-economic commitments and aspirations is on track to leave a long-term sustainable legacy for both the region and communities closest to the site.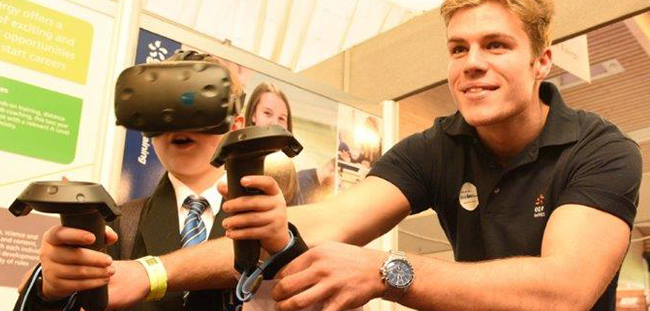 At the end of Q3 2018 273 apprentices have now worked on the HPC Project and apprenticeships and work placements for Sizewell C were launched for the project covering Quantity Surveying, Project Controls and Civil Engineering. The apprentices will study at either the University of the West of England or the University of Exeter and gain work experience at Hinkley Point C, the sister project for Sizewell C. We are working with key skills partners in both the East and West of England to maximise the lessons learned from Hinkley Point C. This includes the development and transfer of common curriculum , along with the future participation of colleges and stakeholders in both regions in the actual set up and delivery of the key skills infrastructure on both HPC and SZC. Partners in both regions will work on the development of the common MEH (Mechanical, Electrical and HVAC - heating, ventilation and air conditioning) curriculum from the start, with courses and opportunities being mirrored in both regions and transferred appropriately. EDF Energy is currently working with stakeholders in both regions in support of their Institute of Technology proposals and will be an Anchor Employer within the IOT Bid for the East. Both regions will also play a pro-active role in the attraction of young people into both HPC/SZC jobs, creating a 'conveyor' of skills and workforce between our two projects.
Call us: Freephone 0800 197 6102*
Email us: info@sizewellc.co.uk
*Calls on 0800 numbers are normally free when you call from a landline but charges may vary if you use a mobile.